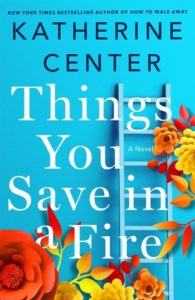 Sometimes you're just in the mood for a Katherine Center book.
Things You Save In A Fire, like the other Center books I've read (Everyone Is Beautiful and How To Walk Away) is a light-ish, enjoyable read with a bit of heft to it. Cassie, a firefighter in Austin, is receiving an award for bravery when she unexpectedly lets loose on the local politician presenting the award. Cassie has her (understandable) reasons for attacking him, but her very public altercation leads to the loss of her job. At the same time, her estranged, ailing mother summons her to come live with her in Massachusetts for a year to help take care of her, providing Cassie with a convenient place to find a different job.
Cassie moves after finding a position at an old-fashioned, all-male firehouse that doesn't take well to women colleagues. Her boss in Austin warns her not to give them any additional reasons to dislike her – don't dress like a woman, don't cry, don't show any feelings, and most important, don't get romantically involved with anyone at work. For Cassie, who has built a brick wall around her emotions since she was a teenager, this won't be hard. She's tough, tireless and fearless, and winning over the new firehouse is just the latest in a long string of challenges she has overcome.
Once in Massachusetts, however, Cassie has to confront something she hasn't before: her own conflicting feelings about her mother and the undeniable attraction she feels for the Rookie, a young firefighter who started the same day she did. And we also learn what the Austin politician did to harm Cassie so much that she beat him up at an awards ceremony. So while Things You Save In A Fire is generally a light read, there are some complex feelings at stake.
I enjoyed Things You Save In A Fire. It's a good palate cleanser if you've read something heavy and need a break, or if you just enjoy a well-told story with a compelling, strong woman at the center. Also – bonus – I learned a lot about firefighting. Things tie up a little nicely at the end, but that's not so bad every once in a while.
I listened to Things You Save In A Fire on audio. It's narrated by Therese Plummer, one of my all-time favorite performers, and she was perfect for Cassie. She does romance really well, but she's also awesome at narrating gruff men with Boston accents and she infused Cassie with humanity and humor. I highly recommend the audio version.