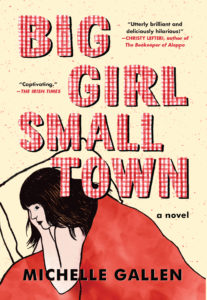 A few months ago, I was invited to join a blog tour for an upcoming debut novel, Big Girl, Small Town, by Irish author Michelle Gallen. It was pitched as a "bleakly and uproariously funny" book about a young woman living in Northern Ireland with a dead-end job in a fish-and-chips takeout restaurant, a newly-murdered grandmother, an alcoholic mother and a missing father. She's also most likely autistic. Uproariously funny? Um, no. But still a worthwhile read.
Why I picked it up: As noted above, I was invited to join the blog tour for Big Girl, Small Town in September. I usually like Algonquin titles and thought the book sounded intriguing.
Majella O'Neill grew up in the small Irish town of Aghybogey. An only child, she lives with her mother, but her father disappeared several years before after the murder of his brother during the Troubles. Her mother is an alcoholic who drinks herself to sleep every night while Majella works the night shift at the Salt n' Battered shop, serving a parade of regulars and looking forward to climbing into bed with her dinner in the wee hours and watching DVDs of Dallas. When the book opens, Majella's grandmother has just been brutally murdered, attacked in her rural home, and the police are trying to find a suspect.
Majella's life is one of routine and repetition, which brings her great comfort. She lists what she likes in the beginning of the book (cleaning, her father, her grandmother, eating, sex, painkillers) and what she doesn't (small talk, physical contact, noise, sweating, make-up and jokes) and lives her life in pursuit of the former and avoiding the latter.
Big Girl, Small Town is a deeply sad book. Majella isn't appreciated by those around her, despite the kindnesses she doles out to her customers and the stoic support she provides her mother. She has been abandoned by the one person she loved to be with and her life seems very small. Her inability to connect emotionally with others makes for a pretty lonely existence, and it's clear that she has bottled years of grief without properly processing it.
So why should you read Big Girl, Small Town? First, it is a fantastically detailed portrait of this small Irish town and the people in it. Second, Gallen allows Majella to grow and change just enough during the week when the book takes place that you have hope for her by the end that her life will improve. You feel deep empathy for Majella as she goes about her day, cleaning up after her mother and the people who come into her shop, and small triumphs like her buying a new duvet cover or standing up for herself in a pub become quite rewarding for the reader.
I am glad I read Big Girl, Small Town. It wasn't exactly a page-turner for me, especially given all the detail and the Irish vernacular, but it was a worthwhile and memorable read. If you especially enjoy books with Irish settings and/or characters like Eleanor Oliphant, give this one a try.
Big Girl, Small Town was book #59 of 2020.