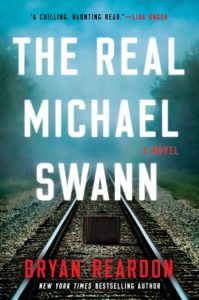 The Real Michael Swann is a thriller. Why do I keep picking up thrillers when I know how I feel about them? It's the irresistible fact patterns, I tell you. They pull me in! And The Real Michael Swann was no exception.
Michael and Julia Swann, married with two young boys, live in an idyllic suburb of Philadelphia. Both of them left jobs they loved – hers in local politics and his with a minor league baseball team – to raise their kids in a good neighborhood with a big house and active community. Now, Michael is about to be laid off from his medical sales job, and he has gone to New York City to interview with a different company. When he calls Julia from Penn Station to check in before his train home, there is a loud explosion and the line goes dead. A bomb has gone off under Madison Square Garden, and in the aftermath, Michael has gone missing.
Frantic, Julia tries to reach him, and then (unwisely) heads to New York to try to track him down. The Real Michael Swann unfolds in three directions: flashbacks to their courtship and early marriage; Julia's attempts to find her husband; and the action unfolding in New York. The pages fly by quickly as the story undergoes some twists and turns to get to the bottom of the mystery. Are the phone calls Julia's getting from people responding her missing persons flyer legit? Why are the police being so helpful? And why does someone answer Michael's phone without saying anything?
Like most thrillers, The Real Michael Swann is an adrenaline rush. Rather than focusing on the words on the page, I found myself racing through to find out what happened to Michael. There were some surprises along the way, and Reardon also delves into politics, domestic terrorism, corporate responsibility and the 24/7 news cycle. While there were some questionable moments, and a few too many coincidences to be totally realistic, Reardon has created a plausible scenario and told a fast-paced, interesting story. I always feel a bit unfulfilled when I finish a thriller, because I love rich, complex stories with beautiful prose, and that's just not what thrillers are. They are here to give us a suspenseful, wild ride that takes us out of our lives for a while – and on that count, The Real Michael Swann definitely delivered.
The Real Michael Swann is the Readerly Report book club pick for September. We'll be discussing it on the show airing September 26.