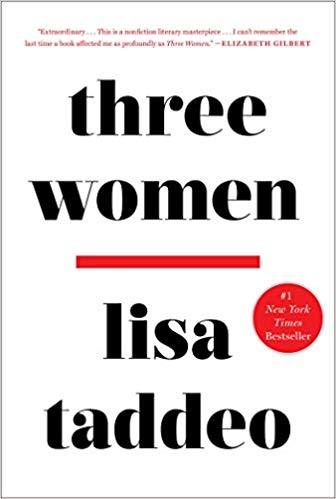 Ack – I finished Three Women by Lisa Taddeo over a week ago, but haven't had a chance to post a review yet. So here I am with a very late review. Three Women was one of the very buzzy books of the past summer. Taddeo followed three women – an Indiana mother, a restauranteur in Newport and a high school student in North Dakota – over the course of a decade to explore sexuality, love and intimacy in their lives. Three Women is non-fiction; the three women exist, and they spent years with Taddeo sharing their most personal thoughts and experiences.
I really enjoyed Three Women. Lina, Maggie and Sloane are different from each other, of course, in age, location and socioeconomic status, but they share universal feelings of loneliness, longing, lust and love. Maggie, the high school student who has a relationship with her English teacher that he later denies, is ostracized and punished when her allegations against him are ultimately followed by his exoneration. Lina, trapped in a marriage to man who does not desire her, embarks on an affair that brings her both passion and intense loneliness. And Sloane is happily married but indulges her husband's desire for her to sleep with other people, bringing on a flood of feelings of guilt, lust and power.
Three Women reads like fiction because these women's internal lives are so beautifully and thoroughly exposed throughout the book. It's hard to believe that Taddeo was able to build such deep trust and extract so much detail and raw honesty from them. (This BookPage interview explains how she met the women and how she built that trust.) The end result is hard to put down. I think most women reading this book will recognize some of themselves in each of Lina, Maggie and Sloane, even if they haven't been in a similar position before. The emotions expressed by the women are universal.
Three Women is not a treatise on female desire. It's not a seminal work on male-female relationships. But it is an example of what can happen when a subject deeply trusts the author writing about her and is willing to look unflinchingly into the lens of scrutiny. It is rare to get such a look into someone else's life, and I found the experience utterly captivating.