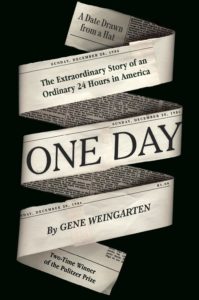 Washington Post reporter Gene Weingarten rolled the dice in 2013 when he asked three strangers to pick three numbers out of a hat. Those three numbers would form a date, and for his next book, he would find noteworthy things that happened on that day and tell those stories. The date he ended up with? December 28, 1986. Weingarten was triply disappointed – 1986 wasn't terribly newsy, and the 28th of December – a Sunday, ugh – fell during the sleepy lull between Christmas and New Year's. He had his work cut out for him.
One Day: The Extraordinary Story Of An Ordinary 24 Hours In America is the collection of some of the stories he unearthed while researching what happened across America on December 28, 1986. There's a wide range here – some love stories, some crime stories, a story about race relations in New York, a story about two men who died of AIDS on the same day, and many more. Most of the stories use that date as a launchpad but continue decades into the future, relating the strange and improbable turns that many of the lives took in the decades that followed. Most of the stories have some sort of a twist – the couple with the abusive husband has stayed together; the baby pulled from the burning home survived; the woman accused of killing her parents never served time. Weingarten was clearly most interested in writing about times when people beat the odds and managed to make it past that fateful day.
Some chapters of One Day are more interesting than others. Looking back now, having finished the book, there are chapters that bleed into each other in my mind, and few that truly stand out as memorable. But that said, I enjoyed One Day quite a bit, and I admire the book perhaps more for what it accomplished than for the actual substance of the chapters. I can't imagine the amount of research that went into this book – identifying stories that had their germ on that day and then tracing their resolution to determine if anyone would want to read about it, and then setting up and conducting all those interviews. Weingarten said that writing One Day took four years longer than he expected, and I can see why.
If you enjoy books like A Day In The Life Of America (I was obsessed with this book as a kid), this is its prose-format cousin.
I listened to One Day on audio, which I don't recommend. It is narrated by Johnathan McClain, and I found his delivery to be too glib for the subject matter, which often included death, murder, abuse and other serious topics. I was put off by the tone he often used when he relayed some of the chapters. He's not a bad performer; he just wasn't the right choice for this book.