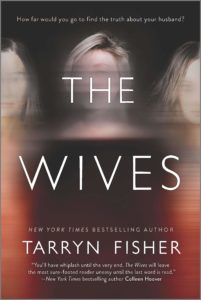 My final read of 2019 was The Wives by Tarryn Fisher. (This book comes out today! I never time reviews this well. Yay, me.) The Wives is a psychological thriller about a woman – "Thursday" – who is the second wife in a plural marriage. She sees her husband Seth once a week on Thursdays when he comes to Seattle, and the rest of the week he is with Wives 1 and 3 in Portland. Thursday is deeply in love with Seth, and for a while is contented to stay in a marriage where she shares her husband with two other women she has never met. But she is also lonely and depressed, and as her dissatisfaction with her marriage increases, she grows curious and ultimately obsessed with learning more about the other two women she sees as her competition.
When Thursday finds a clue as to the identity of Wife #3, she tracks her down and invents an excuse to meet her. She sees bruises on Wife #3 and starts to worry that Seth may not be who he seems. As the book progresses, her obsession with getting to know the other two wives grows and her behavior grows more risky. Are they in danger? And is Seth responsible for troubles she has faced in her own life? Is she in love, or in denial?
I sped through The Wives on vacation. It grabs you from the beginning with the polygamy premise – hard to resist – and takes off from there. I don't want to spoil the plot or give away how it resolves, but I can say that by the end I found it unsatisfying and kind of a silly book. There are a lot of loose ends that go untied, as well as some frustrating stereotyping about women and mental health. I am generally not a big fan of psychological thrillers, and while The Wives kept my attention, it left me feeling empty in the end.
The Wives was a December BOTM pick and most reviews on Goodreads are very positive, so this may be my continuing challenge with psychological thrillers.
Last book of 2019!! Here's to a great reading year in 2020.