This year I surpassed my reading goal of 60 books – my highest goal ever – and ended at 64. It was a pretty good year in reading, but not amazing. There were a lot of books that I really loved, so the highs were very high. But as I scroll through my list, I see just as many books that were just OK and didn't leave much impact on me. The 2019 EDIWTB Reading Challenge also slowed me down in the last few months as I ticked the last categories off the list. I am hoping to avoid a challenge-related reading slowdown next year with the new categories in the 2020 challenge that will hopefully sustain my reading energy all year. I will also continue to be very deliberate with my reading choices in order to improve my satisfaction with the books I read.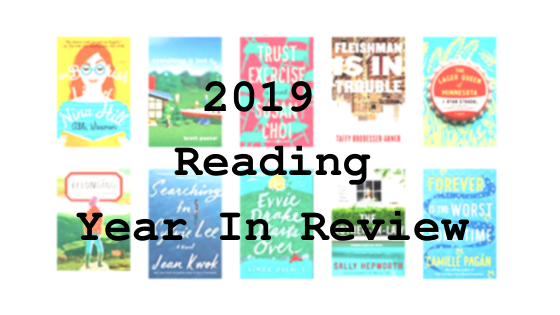 I increased my non-fiction and my male author counts, both of which were goals for 2019. For 2020, I am setting a goal of 60 books again. Hopefully I will surpass it once more, but this year was definitely a stretch and I don't want to get too ambitious for 2020.
Here are my overall stats for 2019:
Books finished: 64
Fiction: 54
Non-fiction: 10
Male authors: 14
Audiobooks: 21
Repeat authors: Taylor Jenkins Reid, Karen Thompson Walker, Lynda Cohen Loigman, Dani Shapiro, Sally Thorne, Jhumpa Lahiri, Ann Patchett, Colson Whitehead, Halle Butler, Katherine Center, Agatha Christie, J. Ryan Stradal, Jean Kwok, Stephen McCauley, Kevin Wilson
Here are a few superlatives for the year:
Best Books: I listed my top 10 best reads of 2019 in a separate blog post, so I won't repeat them here.
Best Audiobooks: Becoming by Michelle Obama, Fleishman Is in Trouble by Taffy Brodesser-Akner, Inheritance by Dani Shapiro
Books I Could Not Put Down: Evvie Drake Starts Over by Linda Holmes, Where The Crawdads Sing by Delia Owens, Forever Is The Worst Long Time by Camille Pagan, The Hating Game by Sally Thorne, The Dutch House by Ann Patchett, Becoming by Michelle Obama
Books That Should Be Required Reading: The Only Plane In The Sky by Garrett Graff, There There by Tommy Orange, The Nickel Boys by Colson Whitehead
Book That Made Me Feel Stupid: Trust Exercise by Susan Choi
Thank you all for reading along with me in 2019. 2020 will be my 14th (!) year of blogging and I am grateful to you all for supporting EDIWTB and sharing it with your friends!
Happy 2020!!