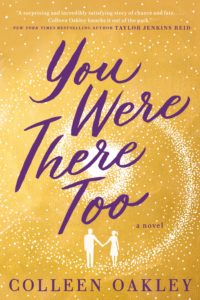 Mia is a thirtysomething artist living in suburban Pennsylvania with her husband Harrison. When she meets a man by chance named Oliver who has also appeared in her dreams since she was young, she starts to question everything – her marriage, what she wants out of life, and whether she and Oliver are destined for a deeper relationship.
Why I picked it: Random House/Berkley Publishing invited me to participate in a blog tour supporting You Were There Too's January 2020 release.
You Were There Too has an interesting premise. What role do, and should, our dreams play in our lives? Can they predict the future? These questions intrigued me. I also liked the setup of the book. Mia and Harrison have had a number of miscarriages which have put a strain on their marriage, and Harrison is now unsure about whether he wants kids at all. Mia, who has paused her career as an artist to start a family, is understandably upset about Harrison's change of heart, and is confused about how to resolve her disappointment in his decision along with the feelings she's developing for Oliver.
Oakley builds suspense throughout the You Were There Too, and I definitely wanted to know how it would resolve and who Mia would choose. Mia is a complicated character, and I liked that the people in the book defied stereotypes and felt real. But I did find that the story dragged and got repetitive at times. Mia was inconsistent in a way that weakened the story by making her feelings less believable. The ending was abrupt and tied together a number of threads in a confluence of events that actually confused me more than it explained.
I see on Goodreads that a lot of people adored this book and found it gut-wrenching and heartbreaking. There were definitely parts of it that I found touching – especially the treatment of infertility – but I wasn't nearly as affected by it as many other readers have been.
I listened to You Were There Too on audio. It was narrated by Sophie Amoss and Dan Bittner, and they did a nice job with the performances. Amoss made Mia relatable, and she has a very memorable voice that I can still hear in my head days after I finished it (in a good way). Bittner's chapters are told in third person, so they don't leave as much of a mark as Amoss', but they provided a nice contrast with and break to the Mia chapters.
You Were There Too was Book #3 of 2020. Thank you to Berkley/Random House for inviting me to participate in the blog tour.