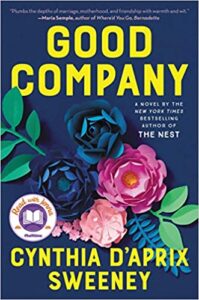 Cynthia D'Aprix Sweeney's novel The Nest, which came out in 2016, featured a family with four siblings each angling to get at an inheritance they have been depending on, but which has disappeared (review here). It's a relatively light novel that takes on parenting, relationships, publishing and New York, but by the end of the book, you've grown to care about the characters and wish them well in getting out of their predicaments. Her next book, Good Company, which came out this spring, similarly looks at parenting and relationships, but it sparkles less than its predecessor.
Why I picked it up: Good Company was my BOTM pick for May based on a lot of positive reviews.
Flora and Julian meet in their 20s in New York, both actors, and marry after a few false starts. They have a daughter and live in Manhattan while Julian launches a theater company and Flora raises their daughter, Ruby. Eventually, they decide to move to Los Angeles, following Ruby's dear friend Margot, now a famous actress on a leading TV drama. They are settled in LA, with Ruby poised to graduate high school, when Flora comes across Julian's wedding ring in an envelope in a box in the garage. The discovery of the ring, supposedly lost in a pond over a decade before, causes Flora to question Julian's commitment to their marriage. Good Company explores the different images they each have of their partnership, as well as the lopsided friendship between Margot and Flora.
Good Company was just OK for me. It was a pleasant read, just engaging enough to keep me going. Not much happens, though, and Flora and Julian aren't interesting enough to satisfy readers looking for a strong character-driven story. With the exception of one character who had a stroke and had to give up his career as a heart surgeon, I found the rest overly dramatic and indulged. Yes, Flora felt betrayed by Julian's lies, but it all happened more than a decade earlier and her reaction seemed disproportionate. Readers looking for the momentum and incision of The Nest will likely be disappointed by this slower, flatter story.
I listened to Good Company on audio, and I suspect that this format got me to stick with it when I might not have in print. Narrator Marin Ireland convincingly conveyed sympathy for these characters, which may have softened my view a bit and kept me going.
Good Company was the 27th book of 2021.