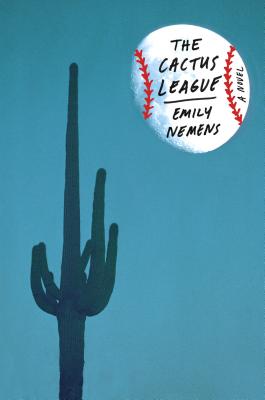 Emily Nemens' debut novel, The Cactus League, is a book about baseball told through interconnected chapters set in Scottsdale at the beginning of spring training in 2013. Jason Goodyear, a two-time MVP outfielder for the fictional L.A. Lions who is going through a tough stretch, is a recurring character threaded through the chapters (of which there are nine, of course), but the book is told through the point of view of other characters living in varying distances from the sport.
Why I picked it: This one was a no-brainer. I am a huge baseball fan, and The Cactus League was recommended by my fave author J. Ryan Stradal when he came on The Readerly Report podcast. It was a pleasant surprise to learn that Nemens' novel is structured like Stradal's Kitchens Of The Great Midwest.
Warning for baseball fans: The Cactus League may take a bit of the sheen off the sport. These characters are down on their luck, for the most part, dealing with personal demons. The book opens when a late-career minor league hitting coach arrives in town for spring training to the grim discovery that his Arizona house has been looted and trashed by squatters. A hotshot sports agent is, we learn later, sick with what appears to be cancer. One of the team's owners makes an impulsive but career-changing decision about a star outfielder after his ego is bruised. These people, some in town only during spring training and some of whom live in Scottsdale year-round, struggle with their self-worth and the prospects for their future. There is a lot of detail and atmosphere in The Cactus League, all of which add up to a richly textured depiction of this strange but revered desert ecosystem.
But spring is a period of renewal and hope. Nemens describes beautifully how the pre-season awakens in players the drive to start over with a clean slate, to erase past failures and claim their rightful lineup spot or win the title that's escaped them through their years in the majors. For the industry hangers-on – the stadium organist, the wives, the woman selling hot dogs in the new stadium – they too express their hopes and resolutions amidst the warming sun and green grass of the newly mowed field. Will they find redemption?
The Cactus League is a rarity – a beautifully written, character-driven novel about sports. As for whether you need to be a baseball fan to enjoy it? I can't answer that. I will say that as a baseball fan, I absolutely loved it.
The Cactus League was Book #4 of 2020 and satisfies four categories in the 2020 EDWITB Reading Challenge: Debut Novel, Book Recommended On A Blog/Podcast, Book With A Blue Cover and Book About Sports. I'll figure out later where it goes but for now I am putting it in Book Recommended On A Blog/Podcast.