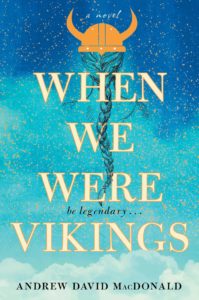 When We Were Vikings by Andrew David MacDonald is a novel about siblings trying to make their way through life despite a lot of adversity. Zelda and Gert's parents are gone – their mother, an alcoholic, died of cancer and their father disappeared when they were young. Zelda was born with Fetal Alcohol Spectrum Disorder, compromising her mental development and limiting her independence. She is obsessed with Vikings, and turns to Viking culture and rules to guide her throughout life.
Why I picked it up: I got When We Were Vikings as an ARC at Book Expo last year and recently started seeing reviews as its January publication day approached. I've seen comparisons to Eleanor Oliphant Is Completely Fine, which I enjoyed a lot.
Zelda and Gert have a lot going against them. They're young and living on their own, having moved out of their uncle's apartment after he started sexually abusing Zelda. Gert has dropped out of college and now deals drugs in order to support them, and Zelda, who spends her days either at the community center or seeing a therapist or hanging out at home, is dependent on Gert for everything.
When Zelda discovers that Gert is no longer attending classes, she draws inspiration from her beloved Vikings to try turn his life around while contributing more substantially to their home. She gets a job, experiments with having a boyfriend, and tries to repel the shady characters who have started invading their already fragile household, thanks to Gert's new livelihood.
Zelda is an interesting narrator: she is articulate, engaged and compelling, but she is also naive and has poor judgment. MacDonald walks a fine line here – he has to make Zelda complex enough to feel invested in, but if she comes across as too smart, she's not plausible as a character. For the most part, I think he did a good job achieving this balance. There were a few times when she seemed too sophisticated and used words that she wouldn't have known, but in general MacDonald did a good job creating a consistent character.
Gert and Zelda are flawed but fundamentally good people who have been dealt some tough cards. I felt a sense of dread as the book went on, worrying about what was going to happen to them and how they would get through it. (Hint: it's never good when a gun appears in a book.) When We Were Vikings is a touching novel and Zelda a winning protagonist. I also learned a lot about Vikings. It could have used a little more editing and the end is a bit abrupt (and unrealistic), but for a debut novel, When We Were Vikings was pretty impressive. And Macdonald did a very nice of getting into a woman's head.
I listened to When We Were Vikings on audio. The narrator, Phoebe Strole, had a perky, upbeat delivery that at times was incongruous with what was happening in the book, but her narration gave Zelda a naivete and optimism that was entirely consistent with her character. I recommend the audio version.
When We Were Vikings was Book #6 of 2020 and satisfies the Debut Novel category of the 2020 EDIWTB Reading Challenge.