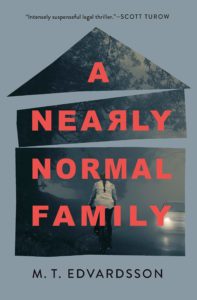 A Nearly Normal Family by M.T. Edvardsson is a crime drama about a family in Sweden. Adam, the father, is a pastor, and his wife Ulrika is a high-powered attorney. When their 18 year-old daughter Stella is accused of murdering a man they've never heard of before, their first instinct is to protect her. But did she actually commit the crime? If so, why?
Why I picked it up: I got this book at Book Expo last year, and it's been on my shelf ever since. I suggested A Nearly Normal Family as one of three possibilities to my book club last month, and this is the one they picked. It was also a BOTM pick for June 2019.
A Nearly Normal Family is told in three parts: Adam's story, then Stella's, and then Ulrika's. Through the three perspectives, the mystery gets teased out. How much did Stella's parents know about her life? Did her best friend Amina, who seems to be hiding something, play a part in the man's death? It turns out everyone in the family has secrets that he or she is hiding from the other two, along with regrets and longings. This family may appear normal on the outside, but there are a lot of things boiling right under the surface.
Of the three sections, I found Adam's most compelling. The tension between the demands of his professional calling and his cellular need to protect Stella at all costs drives him to make some questionable decisions, but his actions are linear and consistent. The Stella sand Ulrika sections were more problematic for me, as both women vacillated often, cycling through competing and opposing (and dramatic!) emotions, often within the same paragraph. They also repeated themselves a lot. As a result, Ulrika and Stella were inconsistent and less credible as characters, which ultimately weakened the book for me.
A Nearly Normal Family is part of a growing list of popular contemporary crime mysteries/thrillers. I liked the idea behind it, but the execution made it a just OK read for me.
A Nearly Normal Family was Book #7 of 2020.