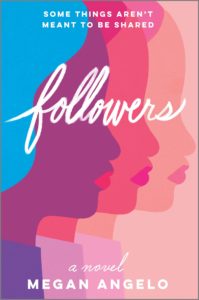 Followers, Megan Angelo's new novel, is split between the late 2010s and 2050. In late 2010s, Floss and Orla are roommates in New York City who test the limits of influencer culture and social media, leaving destruction in their wake as America faces a reckoning over its dependence on devices and oversharing of private, personal information. In 2050, Floss' daughter Marlow lives in a Truman Show-esque community in California where her entire life is watched by millions of followers while an entertainment network, motivated solely by sponsor dollars, choreographs her every move.
Why I Picked It Up: I was intrigued by the storyline and suggested Followers for my book club. I got it from the library in both print and audio and listened to almost the whole book on audio.
There's a lot of good in Followers. Angelo has written a creative, interesting dystopian story, imagining two worlds that don't feel too far from where we are now. The cost of fame can be steep, as can the cost of pouring attention onto undeserving reality stars and relying on phones for connection and fulfillment. I didn't love it in the end, though. It's longer than it needed to be, and it really slowed through the middle (though it picked up in the last third). It could definitely have been shorter and tighter. Also, Angelo jumped right into the story with little explanation, which I found disorienting. It took me a while to figure out what was going on, who was who, etc. Followers is not an uplifting book; it's dark and angry, without a lot of joy.
There is also the issue of timing, which isn't the author's fault. Followers is a cautionary tale about the price of ambition and fame and the dangers of dependence on technology and social media. It was a timely book… until about a month ago. I am not in a social media-bashing mood at the moment. Social media has become a lifeline for so many, a source of information and connection in a time of isolation and loneliness. Perhaps if I have read this earlier it would have lended on more receptive ears, but it didn't rile me up at this difficult time.
I listened to Followers on audio. The narrator, Jayme Mattler, did a nice job with these characters, from vapid Aston to Kardashian-esque Floss and ambitious Orla. Her delivery was precise and urgent, a perfect fit for the tone of the book.
Followers was Book #15 of 2020.