I know reading and books aren't top of mind for many people right now, which is entirely understandable. I turn to reading in times of stress, and keeping up the blog is important to me to maintain normalcy and a sense of control over my life. So I'll keep reviewing what I'm reading, and if you're looking for book recommendations and escape for yourself, please keep reading the blog. I'll understand either way.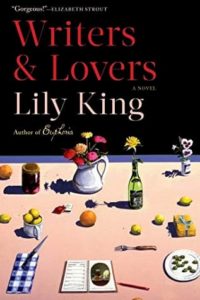 Aspiring authors are often told to "write what you know", so it's not surprising that authors often write about writing. Sometimes that can be kind of boring to read, especially if you're not a writer yourself. But Lily King's new novel Writers & Lovers is anything but boring. It's a glimpse into the writing process and a good reminder that books represent years and years of someone's life and that being a writer can be a very difficult road.
Why I picked it up: I have read and enjoyed other books by Lily King (though not her best-know, Euphoria) and this was my March Book Of The Month pick. Catherine at Gilmore Guide To Books (mostly) liked it, and that helped.
Casey Peabody is 31 and single, waitressing, and trying to finish a novel to which she has devoted many years. Things aren't going too well for her: she's renting a potting shed in someone's backyard in Cambridge, she's waitressing so that she can write during the day, she isn't making progress on her book, and she's mourning the death of her mother and a relationship with a man who turned out to be married. In Writers & Lovers, every aspect of Casey's life – her romantic relationships, her job and her writing – go through tumult and transformation, as she gets pulled inexorably into true adulthood.
I liked Writers & Lovers a lot. This book isn't for everyone – some will be turned off by the lack of action and the gentle pace. I did read it pretty slowly, perhaps because it isn't a page-turner and it's not that hard to to put it down. But I liked the detail and the honesty in King's depiction of Casey's life, and I felt genuinely invested in her and how her life would turn out. The beginning of the book was a bit disorienting, as King doesn't really introduce backstories and characters, but just drops them in. By the end, though, I was fully clued in and hanging on every word to find out what would happen.
Ok, that's the best I can do with this review tonight. My next book will be a page-turner – I need the distraction.
Writers & Lovers was Book #12 of 2020.