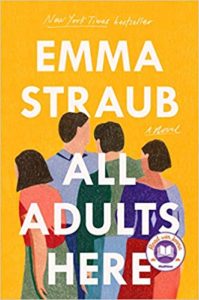 Whether you will enjoy reading Emma Straub's All Adults Here this summer will depend on whether a lighthearted, feel-good read helps you escape the pandemic for a while or instead makes you impatient due to its incongruity with what is going on around you. I suspect that this book, which came out in the beginning of May, was probably a lot easier to market before we all went into quarantine.
Why I picked it up: I enjoyed two of Straub's other novels, The Vacationers and Modern Lovers, in particular her precise, observant writing and her depictions of modern love and parenting.
In All Adults Here, Astrid Strick, a woman in her 60s living in a bucolic town a few hours from NYC, witnesses a bus accident that kills another woman whom she knew but did not particularly like. The accident jars Strick, causing her to reexamine her choices, her parenting, and most of all whether she is living an honest life. Her three adult children – Elliot, a real estate developer living in town with his wife and twin sons; Porter, a single woman pushing 40 who has gotten pregnant on her own; and Nicky, a New Age-y former actor living in Brooklyn with his wife and teenager – have complicated relationships with Astrid, which she vows to improve.
When the book opens, Nicky's daughter Cecelia has come to town to live with her grandmother because of an incident in her school in Brooklyn. Porter is engaging in an affair with her married high school boyfriend, and Elliot is grappling with whether to rent his empty space downtown to a big corporate store. Astrid, meanwhile, is hiding her two-year relationship with a woman.
I have to say, as I write this out, these problems all just seem small. I found All Adults Here to be a pleasant read, in that I cared enough about the characters to keep going, and everything resolved pretty well for them. But frankly, with the backdrop of what's going on today, looking back on the book with a few days of distance, it all seems insignificant. There also isn't that much tension or conflict in the book. There is one middle high school bully, and even she is completely defanged by the end. When I finished, I thought to myself, "So what?"
A few quotes in the book did really resonate with me. One was: "That was the problem with being part of a family: Everyone could mean well and it could still be a disaster. Love didn't cure all, not in terms of missed communications and hurt feelings during an otherwise uneventful dinner conversation. Love couldn't change the misread tone of a text message or a quick temper." Unfortunately, for me the rest of the book didn't really live up to that quote. I didn't buy the deep-seated issues between the Stricks, and therefore found their resolutions even less meaningful.
All Adults Here was Book #27 of 2020.