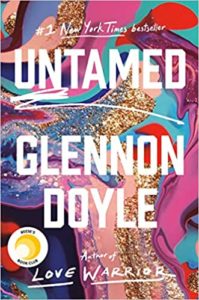 I am new to Glennon Doyle. I never followed her parenting blog, and though I've long had an unread ARC of her memoir Love Warrior in the house, I didn't really know who she was. But when her latest book, Untamed, came out earlier this year, it was hard not to notice the book all over Bookstagram and Book Of The Month and Reese's Book Club. I was curious, so I swapped for it and read it.
Why I picked it up: Untamed isn't usually my type of book, but I couldn't resist the buzz.
Glennon Doyle was raised in Virginia, and during her teenage years developed bulimia and a drinking problem as ways to soothe her anxiety and stave off depression. She married young to a man with whom she partied more than she actually connected with, and amidst her substance abuse found herself pregnant with her first child. She got clean, threw herself into motherhood, and then had two more children with her husband. Doyle's marriage was tested when her husband confessed to being unfaithful, a challenge she overcame through faith and public pronouncements of her commitment to her marriage. She wrote a book about her experience with addiction and forgiveness – Love Warrior – which was well-received and often held up as Christian guide to working through marital problems.
During the book tour for Love Warrior, though, Doyle met and fell instantly in love with someone else. That someone else – soccer player Abby Wambach – completely turned her world upside down. Could Doyle – now a symbol of the steadfast wife and mother who sacrificed everything for her family's stability – leave her marriage to pursue her true love? Untamed is Doyle's memoir of breaking free from expectation and finally being true to herself.
I don't really like self-help books, and there is a lot of self-help in Untamed. I didn't love some of the early chapters about "Knowing" and inner selves and sobriety – I found them repetitive and at times too self-centered. But as I read on, later chapters in the book really resonated with me. I liked Doyle's messages about parenting, such as the importance of both pushing kids out of their comfort zone while also acknowledging that their knowing their limits is a form of bravery. She had some interesting, non-trite things to say about racism and what white women can actually do to help improve the situation. I also liked her wake up call – that we parents spend more time worrying about college admissions than the health of the earth they are inheriting. And her love story with Wambach is very compelling.
In the end, I was glad I read Untamed. Is it worth the hype? Possibly not, but still worth the read.
I listened to Untamed on audio, narrated by Doyle. Like many memoirs, narration by the author made it more personal and felt more genuine. Although there were a few times when I felt my mind wandering, Doyle generally did a good job of keeping me engaged and the book moving along.
Untamed was Book #30 of 2020.