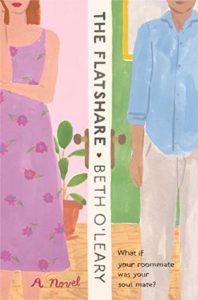 The Flatshare by Beth O'Leary follows the typical romance fact pattern – take two people who seem to be a mismatch, keep them apart as long as possible while building up tension between them, let them hook up, throw a wrench into their romance, and then give them a happy ending. (I didn't spoil anything there, did I?) The Flatshare is particularly creative in how it keeps its protagonists apart, leading to a cute and clever book that is nonetheless pretty light.
Why I picked it up: My book club wanted something light and romantic for August, and The Flatshare had been on my TBR for a while.
Tiffy is a book editor in London who has just been dumped by her boyfriend. She is in need of a cheap apartment, immediately. She finds a strange offer – Leon, a hospice nurse who works nights and weekends, is renting out his apartment for the hours he isn't there. His flatmate will have the place when he's not there, thus ensuring that the two never meet. Tiffy moves in, and eventually the two start communicating via post-it notes around the apartment. And – surprise! – they start to become friends, and maybe more, even though they've never met face to face.
The Flatshare is a cute story about two people who are very different but find themselves dependent on each other in surprising ways. Tiffy is loud and fun and dresses in kooky outfits; Leon is restrained and quiet but has a heart of gold. Tiffy's ex-boyfriend reappears in the book, triggering memories of emotional and psychological abuse, which adds a more serious undercurrent that doesn't really fit in with the rest of the book. (But it does throw more obstacles into Tiffy and Leon's path to bliss.) Overall, The Flatshare is a cute read, good for a vacation or mental escape. It's also very British – understated and sarcastic.
I listened to The Flatshare on audio, which I liked. The narrator for Leon's chapters – Kwaku Fortune- is a little hard to understand at first, but Tiffy's narrator – Carrie Hope Fletcher- is bright and clear and very easy to follow. If you want to pick this book up, I'd recommend the audio, which makes the story more immediate and evocative.
The Flatshare was book #40 of 2020.