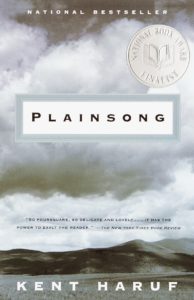 There is a moment in Kent Haruf's novel Plainsong when one character, a high school teacher, tells a teenage student, "These are crazy times, I sometimes believe these must be the craziest times ever." I bookmarked that quote, because I think NOW really are the craziest times, and that the beauty of human connection that unfolds in Plainsong is even more reassuring than ever. This deceptively simple novel about interwoven small town lives in fictional Holt, Colorado was my final vacation read, and one of my favorite books I've read this year.
Why I picked it up: I've had Plainsong on my TBR ever since I read Our Souls At Night last year, which I also loved. Plainsong is #1 in a trilogy, which means I have two more Holt novels in my future!
In Holt, three separate storylines emerge in Plainsong. Victoria Roubideaux is a high school student who has gotten pregnant by an older boy who doesn't live in town. She confides in a teacher, Maggie Jones, after she is kicked out of her house by her mother. Maggie approaches two older bachelor brothers, the McPherons – farmers who live outside town – and asks if they will take Victoria in, which they reluctantly agree to do. Meanwhile, another teacher at the school, Tom Guthrie, is dealing with a mentally ill wife and two small sons, Bobby and Ike. When his wife decides to leave Holt and move to Denver, Tom is left as a single father. Plainsong cycles through this triangle of character groups, braiding them tighter until they intersect at the end.
I loved Plainsong. Haruf is a master storyteller, using quiet spare writing that gives meaning and import to every sentence. The little details throughout lend immediacy and intimacy to the story, while the book itself is sweet and hopeful without feeling preachy, saccharine or out of tune. Bad things happen, characters become hurt or scared, and they do bad things to each other. But there is redemption for each one, and hope that their lives will become better. I also loved the interactions between Maggie, Victoria, Ike, Bobby and the McPheron brothers. They each had something to offer the others, which was ultimately what made the book so rewarding.
I am definitely reading #2 and #3 in the Plainsong trilogy.
I read Plainsong mostly in print, but I switched to audio when I returned home from vacation. The audio is fantastic too. It's narrated by Tom Stechschulte, and with the exception of a few of the female voices, he was just perfect. His delivery greatly added to my enjoyment of the book. He could take a single word and imbue it with so much meaning that I often rewound and replayed just to experience it again.
Plainsong was book #41 of 2020.