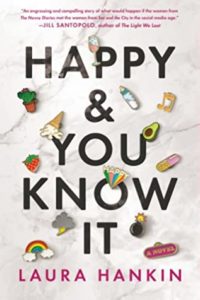 Happy And You Know It by Laura Hankin takes the Upper East Side mothers-behaving-badly trope and turns it into something deeper, exposing what happens when a playgroup of Instagram-perfect moms starts to crack at the surface, revealing the weaknesses within. There are a few twists and turns along the way that make Happy And You Know It darker and deeper than I expected.
Why I picked it up: I'd read good things about Happy And You Know It and thought I'd give it a try.
Whitney, Amara, Gwen and some other minor characters are moms of babies and toddlers living in New York City. Whitney has a big following on Instagram, where she posts carefully curated pictures chronicling her life as a mom to her daughter, Hope. The playgroup hires a struggling professional musician named Claire to come each week to sing to the babies, and Claire slowly becomes part of the group. As her friendships with the women grows deeper, she uncovers some secrets about them that of course, eventually come out, causing deep fissures among the women that can't be smoothed over.
Happy And You Know It is funny and incisive, and at first faithfully follows the satire route. But Hankin fills in the backstories of each of the women, giving them more dimension and heft and providing insight about motherhood, marriage and friendships. "Women had to grapple with a choice that men never did while remaining uncomplaining and generous so that they didn't nag their husbands straight into the arms of less complicated lovers. And now moms weren't even allowed to acknowledge how much work it all was anymore."
I read Happy And You Know It quickly and had a hard time putting it down. It's a great beach read, or good for anytime when you want a nice escape that will suck you in quickly (like during a pandemic). Looking forward to more from Laura Hankin!
Happy And You Know It was book #39 of 2020.