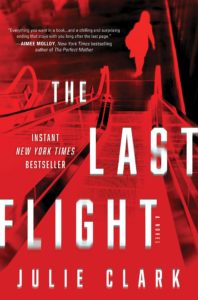 The Last Flight by Julie Clark is a breathless thriller that's gotten a lot of buzz this summer. Claire Cook is married to the Rory Cook, scion of a famous political family. They live in New York City, and while her life may appear enviable, the dirty truth is that Rory is abusive and controlling, and that Claire is trapped and miserable. She concocts a plan to escape her marriage – and her whole life – during a business trip, but a last minute change o destination thwarts the plan, leaving her desperate for a new path. When the opportunity to switch places with Eva, another woman who is herself escaping a difficult situation, before boarding a different flight presents itself, Claire takes it, with dramatic consequences for both women.
Why I picked it up: I was intrigued by the buzz around The Last Flight and thought it would make a good beach read. It turns out I have read and enjoyed another book by Clark – The Ones We Choose – which was very different (not thriller-y at all). I didn't recognize the author's name when I started this one.
The Last Flight is a propulsive read, with twists and surprises along the way that keep the pages turning. Eva and Claire are strong, smart women who have found themselves in untenable situations. The flight that Claire was supposed to take ends up crashing, with no survivors. The Last Flight tells Eva's backstory leading up to the flight, and Claire's narrative mostly after the flight. I enjoyed Claire's story more, though the book seemed to focus more on Eva. Like most thrillers, the book is heavy on plot and suspense and light on character development, although I feel like I got to know Claire and Eva more than I would have expected from the genre.
There are some plot points that are heavy on coincidence and rely too much on implausible turns of events, but if you put those aside, The Last Flight is an addictive and engrossing book. The theme of female empowerment and friendship is strong throughout; men do not fare well in this book at all. I'd call this book a "light thriller with a heavy dose of women's fiction", which is how I prefer my thrillers!
The Last Flight was book #36 of 2020.