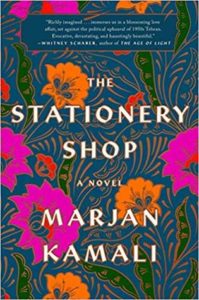 The Stationery Shop by Marjam Kamali is a novel set in 1950s Iran and 1960s California/Massachusetts about a couple – Roya and Bahman – who fall in love as teenagers but are kept apart by family obligations and political upheaval shortly after their engagement. They end up living separate lives on different continents, passing the decades adjusting to new realities and the sharp pain of lost love. But they never forget about each other.
Why I picked it up: I put The Stationery Shop on the library hold list months ago after seeing several positive reviews. When my pickup library finally opened up again and the book came in, I grabbed it and also got it on audio so I could listen to it.
Roya and Bahman are teenagers in Tehran who meet in a stationery shop, where they fall in love. They both love reading and literature, while Bahman is politically active and supportive of Iran's progressive prime minister Mossadegh. Their relationship grows during a time of political upheaval for Iran, yet the two remain steadfast and get engaged. Suddenly, however, Bahman disappears, with no warning or explanation. The two communicate by letter, via the owner of the stationery shop, and they make a plan to meet downtown and elope. Roya is there at the appointed time, but Bahman is not. He later breaks up with her by letter, shattering her dreams of her future.
A few years later, while attending college in California, Roya meets an American man with whom she builds a life. They experience joys and losses, the highs and lows of married life, but remain committed to each other over the decades. The reader hears sporadically from Bahman, who has remained in Iran and forged ahead with his life as well. Roya slowly adjusts to America, though she misses Iran deeply and never forgets about Bahman.
The Stationery Shop may be billed as historical fiction, but it's really a historical romance. There isn't all that much history here. The first third of the book explains the political situation in Iran in the 1950s, with uprising and upheaval serving as the backdrop for Roya and Bahman's romance. Kamali writes about the Shah and the defeat of prime minister Mossadegh, then later briefly describes the unrest in the country when the Shah is ousted. But overall, The Stationery Shop is pretty light on history.
Kamali does better when she explores love, loss and acceptance. While I was never really all that convinced of the sustaining power of Bahman and Roya's love, I found some of the other storylines and characters more interesting. I also liked the chapters about Roya's new life in the U.S. But in the end, The Stationery Shop was a relatively light read that I'd characterize as romance/women's fiction, rather than historical fiction. It's a memorable love story, just not a particularly deep one.
I listened to The Stationery Shop on audio, and I enjoyed it in that format. Mozhan Marno, the narrator, is Iranian-American and therefore knew how to pronounce the foreign words, especially those having to do with Iranian food, which Kamali talks a lot about. I listened to the audiobook during long walks on the beach and it definitely kept my attention.
The Stationery Shop was Book #38 of 2020.