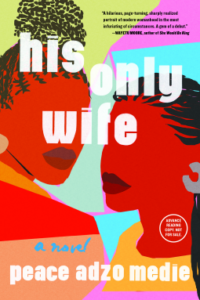 His Only Wife by Peace Adzo Medie is a novel set in Ghana about Afi, a young woman who enters into an arranged marriage with Eli, a man who is in love with someone else. Afi has been selected by Eli's domineering mother to lure him away from the other woman – an unenviable position, for sure – and has to make the best of it when she arrives in Accra to assume her position as Eli's wife. His Only Wife follows Afi's transformation in Accra from a timid, insecure girl into a confident, ambitious woman.
Why I picked it up: His Only Wife was promoted during one of the buzz panels at Book Expo this year, and I was invited to participate in a blog tour for the book by Algonquin.
His Only Wife is an interesting read. Most of the characters are in untenable situations, and while I wanted to dislike at least a few of them, Medie complicated things enough that there really were no villains. Afi is a compelling character, stubborn at times but faithful to herself and unwilling to settle for less than what she deserves. I enjoyed learning about Ghanaian culture, especially the contrast between Afi's small town, Ho, and her life of luxury in Accra. I was also invested in the story and, by the end, eager to see how Afi's life would turn out. I read His Only Wife while on vacation a few weeks ago, and it really stuck out in my mind. It's one of the books I remember best from the stack.
His Only Wife has a smart female character, a good feminist message and an interesting setting. All positives in my book!
His Only Wife was Book #42 of 2020.