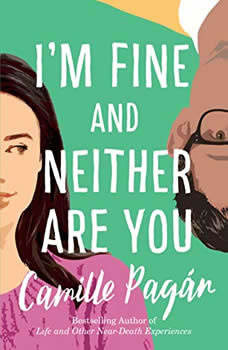 In Camille Pagán's novel I'm Fine And Neither Are You, Penelope Ruiz-Kar and her husband Sanjay live in the Midwest, have been married for 11 years, and are kind of… stuck. Penelope is the breadwinner, supporting their family of four by working in development for a medical school while Sanjay does freelance writing. She's tired, frustrated and resentful. When she learns some secrets about her best friend Jenny that completely change how she had viewed Jenny's perfect-seeming life, Penelope is driven to make some changes in her own.
Why I picked it up: I really enjoyed Pagán's novel Forever Is The Worst Long Time (review here) and found the title to this one irresistible! I've had a 2019 ARC of I'm Fine And Neither Are You in the house for a while (I don't remember where I got it) and thought I'd give it a try. (FYI – Camille Pagán was a guest on The Readerly Report podcast with me earlier this summer and we talked about her awesome titles!)
Penelope is a pretty relatable person. Like many women juggling family, marriage and career, she has a lot on her mind, but she isn't always good about sharing it. And when she does, she feels guilty. But over the course of the book, she grows more confident and less afraid to tell the people in her life what she wants from them. There isn't a lot of action here; the relationships in the book are what change over time. I'm Fine And Neither Are You is the opposite of escapist fiction; sometimes, I had to put it down because it all felt a little too familiar. Also, the book sometimes pinballs quickly between grief and snarky humor, which took some getting used to. But Penelope and Sanjay are multidimensional, interesting characters facing realistic challenges. Pagán has a great sense for how people communicate, and her books rarely strike a false note.
I listened to I'm Fine And Neither Are You on audio, and I wish I had gone with the print. The narrator, Amy McFadden, has a chirpy voice that seemed out of sync with the book and annoyed me as I listened.
I'm Fine And Neither Are You was book #43 of 2020.