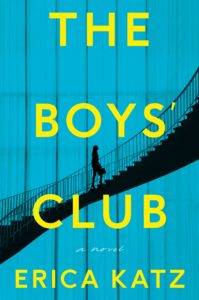 So, I used to be a lawyer. I was once a first-year associate at a big law firm, wearing a suit, trying to learn a whole new language, putting in long hours and feeling insecure about where I stood among the other associates. That was a lifetime ago – I left law 16 years ago and have been happily employed ever since in jobs that are a better fit. But I do remember those days. So when The Boys' Club, Erica Katz's fictionalized account of a young woman's first year at at a big law firm in New York hit the book scene this summer, I knew I wanted to read it.
Why I picked it up: See above.
Alex Vogel, a recent Harvard Law School graduate, joins Klasko and Fitch, a top New York law firm as a first-year associate. She is excited to start her legal career and anxious about the process of picking a practice group. She's been told to avoid the Mergers and Acquisitions (M&A) group, which is known for being the most intense and working its associates the hardest. But she's also drawn to its high octane, fraternity-esque nature, and gets sucked in when one of the partners asks her to work on a deal. From then on, Alex becomes completely immersed in her work, pulling all nighters and then partying with her colleagues (and clients) to prove that she's one of the boys and worthy of a spot on the team.
What follows is a fast-paced story that careens from coke-fueled nights, office affairs and high-stakes deals to the strain Alex's job causes in her personal relationships. Alex also endures sexism and harassment, which she mostly stays quiet about to protect her tenuous standing in the group. As a protagonist, Alex can be annoying – she's arrogant and materialistic, and she makes a number of really bad decisions. But the story is fun and the pages fly by. As for the ending: it's disappointing, unrealistic and kind of bizarre, sorry to say. I think the author intended The Boys' Club to be a feminist statement, but I'm not sure it worked in that regard.
Overall, I had fun reading The Boys' Club. It ultimately bore little resemblance to my own experience as a lawyer in a big firm (thankfully), and it certainly doesn't portray BigLaw in a flattering light. If you enjoy getting an action-packed glimpse of someone else's profession (or maybe your own), however distorted, you may enjoy this one.
The Boys' Club was the 54th book of 2020.