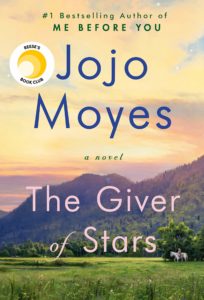 Ok, I finished Jojo Moyes' The Giver Of Stars about a week and a half ago and I am just now getting to review it. November has been crazy. Between the election and work and a rambunctious, distracting foster dog who's been with us the last four days, my reading and blogging have ground to a halt. So much for my strong year-end reading pace. Hopefully December won't be so busy. But on to the book. With most Jojo Moyes books, you know exactly what you're going to get. And with The Giver Of Stars, I got it.
Why I picked it up: I had the print at home and the audio was available on Scribd, and I was in the mood for some dependable Moyes storytelling.
The Giver Of Stars is about a group of traveling women librarians in Western Kentucky in the 1930s who brought books via horseback to people in remote regions of Appalachia. Alice, one of the librarians, has come to America from England to marry a man she thinks will give her a better, more exciting life, but she finds herself trapped in a small town with a man who doesn't love her and his oppressive father. Margery, the leader of the group, is a fiercely independent feminist yet also deeply in love with a man who wants her to marry him. Three other women round out the group.
Jojo Moyes' books are engrossing and well-paced, and some are totally predictable. You know what's going to happen from page 1, and while there might be a small surprise or two, that's pretty much how things play out. I enjoyed the history lesson in The Giver Of Stars, even if the characters weren't terribly deep or dimensional. There is a lot of historical interesting detail and an unnecessary murder trial which I could have done without. But overall it was a good read during a time when I was having trouble focusing.
There is a plagiarism scandal around The Giver Of Stars. If I had the time, I'd read Kim Michele Richardson's The Book Woman Of Troublesome Creek, but now that I've read one book about the Pack Horse Library Project, I doubt I'll pick up another. I feel a little guilty that I may have read the wrong one. 🙁
I listened to The Giver Of Stars on audio. It was narrated by the always dependable Julia Whelan, who did a great job (I think?) with the accents. I highly recommend the audio, which kept me focused and involved with the story.
The Giver Of Stars was the 55th book of 2020.