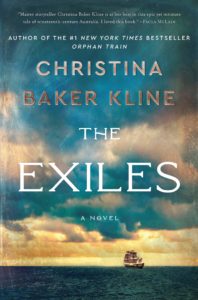 This is a good year to be reading historical fiction, right? What's better than transporting yourself OUT of 2020 to another time? Christina Baker Kline's The Exiles takes you to 1840s Australia (though I am not sure it's all that much better than 2020). The Exiles is about three women: Evangeline, a woman wrongly convicted of theft and sentenced to prison and then exile to Australia; Hazel, an Irish girl also convicted of theft and sent to exile in Australia; and Methinna, an orphaned Aboriginal girl who is adopted by a British governor and his wife in Tanzania. These three women's lives intersect as they navigate the difficulties of their new lives.
Why I picked it up: I really enjoyed Kline's Orphan Train (reviewed here) and was in the mood for some good storytelling from an other era. (I also loved her earlier book, Bird In Hand, reviewed here).
Kline clearly did a ton of research for The Exiles. She includes a lot of detail every step of the way, from Newgate Prison in London to the transport ship, the prisons in Australia and the work assignments women convicts received when they got off the ship, Kline's storytelling is rich and evocative. I felt as though I could imagine these women's lives – what they ate, what they wore, where they slept. I was aware that England sent convicts to settle Australia, dislodging of course the native Aborigines who populated the island before the British got there, but I learned a lot more from The Exiles.
The Exiles is relentlessly depressing, though. These women experience unspeakable loss and abuse, and their lives are very difficult and treacherous. This is definitely not light, escapist fiction. Also, in the end, the story and characters were a bit superficial. Methinna's storyline gets dropped pretty early, while naive Evangeline and scrappy Hazel do not get developed very deeply as characters. The book is about the power of friendship and perseverance, but the strength of the book lies in its historical detail rather than in its storytelling. The Exiles is not terribly long, but it felt like it took me a long time to get through it.
I listened to The Exiles on audio, and the narration by Caroline Lee was excellent. She covers a lot of accents and even has do to some singing at times. She's perfect. I highly recommend the audio version if you want to read The Exiles.
The Exiles was book #63 of 2020.