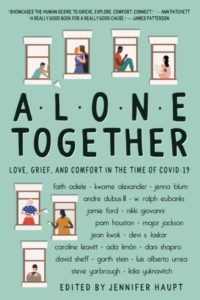 This year has been something, right?
I am constantly reminded that we are all going through the same experience. While some people have clearly been more negatively impacted by the pandemic than others, and some deal with it more close up than others, we are all dealing with some variation of the same stress and anxiety. And we're dealing with it in isolation. But one way of connecting, of course, is through art, and it's no surprise that this pandemic has inspired a spate of writing that, nine months in, underscores the universal nature of the losses brought on by covid-19. One of those books is Alone Together: Love, Grief And Comfort In The Time Of Covid-19, a collection of essays and poetry written by a range of literary voices and edited by Jennifer Haupt.
Why I picked it up: I wanted to hear how people more eloquent than I were dealing with the pandemic. When I was offered a chance to review Alone Together, I gladly took it.
Alone Together's essays and poetry are grouped into three main categories: Grieve, Comfort and Connect. They cover the deaths of close relatives, the strain this year has put on relationships, what it's like to be Black during the pandemic. Essays are short and readable, with something familiar in almost every one of them. I recognized some of the 90 contributors to this collection – Jean Kwok, Pam Houston, Dani Shapiro, Garth Stein, Andrew Dubus III, Caroline Leavitt – but there are many new-to-me writers in here as well. And best of all, the proceeds from the book go to The Book Industry Charitable Foundation, which supports independent booksellers impacted by the pandemic.
Alone Together was this month's blow-dry book (the book I read, slowly but steadily, while I dry my hair each morning). It was the perfect book to pick up for ten minutes or so and then put down until the next day. I could read an essay or two and immerse myself in that writer's unique perspective and experience before taking a break and picking the book up again the next day. I recommend Alone Together for anyone feeling isolated and eager to feel part of humanity again. Yes, this situation is awful, but we're in this together. That sounds trite and clichéd, nine months in, but it's really true. I've found that the best thing to come out of this year has been the feeling of connection I've found, often in surprising places, and Alone Together certainly helped reinforce that feeling.
Alone Together was the 62nd book of 2020.