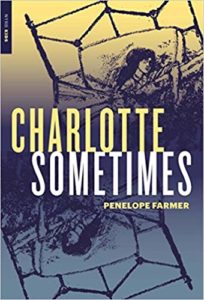 For the twelfth and final category of the 2019 EDIWTB Reading Challenge, I had to choose a book that came out during my birth year. This proved surprisingly difficult. I had a hard time finding something appealing from that year that I could get my hands on easily and that wouldn't take forever to read. (This category will not be making a repeat appearance next year.) I ended up choosing a children's book called Charlotte Sometimes by Penelope Farmer about a time-traveling teenager in 1950s England who visits 1918 every other day.
(Incidentally, this book is the inspiration for the Cure song of the same name.)
First, YAY, I FINISHED THE CHALLENGE.
Second, Charlotte Sometimes was just OK. It's about Charlotte Makepeace, a girl who starts at a new boarding school in England. After a few nights in her new school, she wakes up in the same bed and the same building, but 40 years earlier. She has changed places with someone named Clare, who is also attending the boarding school along with her little sister Emily. Every other night, Clare and Charlotte change places. This leads to much confusion among their classmates and teachers and poses challenges to the two girls themselves, who learn to communicate with each other via notes stuffed into the bedpost. When Charlotte (as Clare) finds herself trapped in 1918 because she and Emily are sent to live with a family and she's no longer sleeping in the magic bed, she faces questions about who she is, where she belongs and what would happen if she did not return.
Here's why I didn't love Charlotte Sometimes. It's slow and boring at times, with a lot of extraneous detail that bogged down the story and made my mind wander. I listened to Charlotte Sometimes on audio and it was a struggle to concentrate. But even more important, Farmer did not take advantage of time travel, which is a literary and narrative goldmine. Think of all the things that can befall someone living in another era: cultural confusion, astonishment at technological advancement (or its converse), and, of course, the ramifications of doing things that can affect your future self or the people you love. Time travel books make my head hurt in the best way; they are confusing and mind-bendy and intellectually challenging. Charlotte Sometimes barely scratched the surface of time travel. It almost never acknowledged the differences between the two eras, other than that there were no airplanes in 1918, and Farmer didn't even address the logic fallacy of time travel until the very end. What a waste!
As I mentioned, I listened to Charlotte Sometimes on audio. Narration by Hannah Gordon was precise and dramatic like British narrators often are, but even she couldn't keep me focused on large swaths of the book. Despite her capable narration, I was relieved when I finished.
OK – 2019 EDIWTB Reading Challenge completed. Stay tuned for my wrapup and the announcement of the 2020 EDIWTB Reading Challenge.