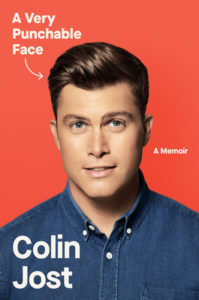 When books are marketed as being "hilarious" or "laugh out loud funny", I often don't find them funny. A major recent exception is Colin Jost's memoir A Very Punchable Face, which is extremely funny. In A Very Punchable Face, Jost, the co-host of "Weekend Update" and one of the head writers for Saturday Night Live, writes about growing up on Staten Island, attending Harvard, trying to get a job in television and spending over a decade in the pressure cooker that is SNL.
Why I picked it up: Why not? Jost is very entertaining on the show, and A Very Punchable Face has been extremely well-reviewed.
It's hard to find stuff these days that makes me laugh, given the state of affairs. But I swear I laughed out loud the whole time I listened to A Very Punchable Face. I'd be driving – anywhere, just to have an excuse to listen – and cracking up in my car. Jost is honest, sarcastic and self-deprecating, and he shares a lot of detail and behind-the-scenes information about his life in New York, his job, his family, and his various escapades over the years. He clearly loves comedy writing, and he works hard at it. I learned a lot about the process of writing standup and comedy sketches.
Some highlights: disastrous trips through Europe, an FAQ about SNL (he won't spill on which host he has liked the least), random body ailments he has suffered, why hosting the Emmys sucked, and a serious chapter about his mom and 9/11. But really, the whole book is entertaining and well-written. The description of the Staten Island ferry alone is worth the price of admission.
I listened to A Very Punchable Face on audio, which I highly recommend. Jost has great timing and he's just a funny guy. However, there are also a lot of photos throughout the book, and he refers to them frequently, so it's helpful to have the print version as well.
A Very Punchable Face was the 4th book of 2021 and satisfied the Book With A Red Cover category of the 2021 EDIWTB Reading Challenge.