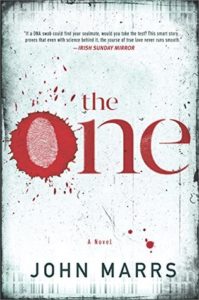 The idea of there being a single "soulmate" out there for everybody is an intriguing one, and it's the subject of John Marrs' thriller The One. (It's also the subject of an AMC show, Soulmates, that may or may not be related to this book – I can't seem to get a good answer on that.) The One follows five couples who have been matched by a London app called Match Your DNA to see how they fare after they learn that they've been matched. There are twists and turns around the way, and few people in the book are who they appear to be.
Why I picked it up: I like the premise (and have watched a few episodes of Soulmates) and I had heard that The One was impossible to put down. Also, it was overdue at the library.
The five pairings in The One are interesting: an engaged heterosexual man matched with another heterosexual man; a serial killer matched with a police officer; a woman in London matched with a farmer in Australia; a woman matched with a man who has just died; and a powerful CEO matched with a kind but unsophisticated man. The chapters rotated among these pairings, exploring what happened after the person who submitted their DNA reached out to their match. There are lots of twists and turns, with surprises that continued until the end of the book.
But despite the adrenaline rush that The One is, I didn't love it. The characters are pretty one-dimensional and it was hard to feel invested in any of them. Despite the huge complications that the soulmate service could create for society, for existing relationships, for dating, for everything -Marrs addressed them superficially, glossing over them in favor of shocking plot twists. In the end, The One fell flat for me. At least I can now return it to the library.
The One was Book #3 of 2020.