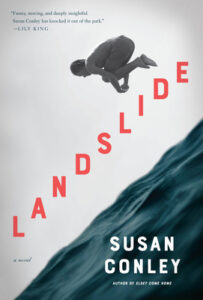 Reading Landslide by Susan Conley is like walking into someone else's very stressful life, which you may or may not want to experience. Jill is a middle-aged woman living with her husband Kit and two teenage sons in Maine, where Kit is a commercial fisherman and Jill makes documentary films. When the book opens, Kit has been seriously injured in an accident on his boat, and he is in a Nova Scotia hospital several hours away. Jill is trying to hold down the fort at home while Kit recuperates, which means providing support for Kit while managing her teenagers, who are dealing with typical teenager stuff: girlfriends, school, sex, smoking pot, and generally pushing away their mother and wanting to be independent. The family is on the verge of several crises at once, and Jill is left trying to hold it all together.
Why I picked it up: Lots of strong recommendations from sources I trust, and it's my March in-person book club pick.
There is a lot to like about Landslide. Conley does a great job describing the dance of parenting teenagers: the push and pull, the rotation between being a friend and then a parent and then a disciplinarian and then a friend again, and the need to hide the pain and anger and hurt when your child pushes you away or disappoints you or lies to you. It's a quiet, emotional read that really plunges you deeply into Jill's world. I felt a tremendous amount of empathy for her as it felt that no one was on her side, even her best friend who kept trying to talk her out of her feelings.
My only complaint is that Landslide was basically… joyless. It was poignant and beautifully written, but kind of an emotional slog. I wanted more of a payoff at the end after all that stress! Parenting and marriage can be really challenging, but… eesh. Tough stuff.
I listened to Landslide on audio. It was narrated by one of my favorite performers – Rebecca Lowman. She is at her best when she narrates darker, sadder books, so she was a great match for Landslide. I love her delivery and I think she did a great job with Jill.
Landslide was book #11 of 2021.