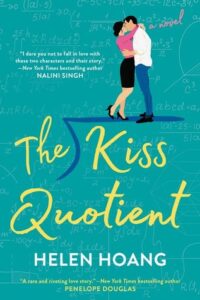 I am relatively new to the romance genre. I read a few romance novels in 2019 and 2020, and for the most part I enjoyed them. They provide a nice break between darker fare, and even though they are pretty formulaic, they are absorbing and often entertaining reads. The Kiss Quotient by Helen Hoang brings an additional dimension: her protagonist, Stella, has autism. When the book opens, Stella has resorted to hiring an escort to teach her about sex, because while she'd like to eventually find a boyfriend, her past sexual experiences were awful, leaving her self-conscious and miserable. She selects Michael from the escort website, sparking a relationship between the two that neither expected. Will Stella and Michael get beyond their intense physical attraction and see if they could actually be right for each other?
Why I picked it up: People love The Kiss Quotient and I wanted to see what the fuss was about. I had it in print and it was available on Scribd on audio, so the stars aligned.
So it's been several days since I finished The Kiss Quotient and I'm still not sure how I feel about it. Here's the good stuff. I liked the depiction of Stella as a well-rounded autistic woman who is smart, driven and capable of love and emotion. She cannot read social cues, has no filter, and intensely dislikes loud noises and unauthorized touching. But she's also generous, kind and successful. The love story with Michael – a complicated character in his own right – is sweet and unexpected. And there is lots and lots of sex. (It's a romance!) So that's all good.
What's holding me back: I didn't like who Stella became around Michael. She was so pliable and passive with him, which seemed inconsistent with her character. The book also seemed to say that good sex is enough to "fix" autistic behavior, like not wanting to be held. I wanted to see how the autism impacted all aspects of Michael and Stella's relationship, not just the emotional side. Hoang is herself autistic, so it may be unfair for me to question the depiction of Stella's behavior in the relationship. Clearly Hoang knows at least her own experience in relationships. I just felt as if Michael was a "cure-all" for Stella, when in fact she didn't need to be cured. Also the feminist in me didn't like Michael's possessiveness of Stella or that he drove her car whenever they went out. And I was surprised by how clueless many of the characters were about autism, including Stella's well-meaning parents.
I listened to The Kiss Quotient on audio. Great narration by Carly Robin, who brought humanity and depth to Stella's character. I always wonder if it's hard to narrate those sex scenes…
Overall, a mixed bag for me: mostly good but with a few major reservations.
The Kiss Quotient was book #6 of 2021 and satisfies the Debut Author category of the 2021 EDIWTB Reading Challenge.