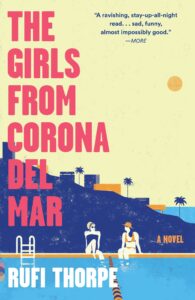 Isn't it funny how you can make an impression – wrong or right – of a book just based on its title? I picked up The Girls From Corona Del Mar several years ago knowing only that it was a book about friendship, and I assumed that it was going to be a gauzy, possibly retro read about the ups and downs of a relationship between two Southern California girls. But I read Thorpe's latest novel, The Knockout Queen, earlier this year (review here) and I realized that my baseless assumption about The Girls From Corona Del Mar was going to be very wrong. Thorpe territory is dark, sad and very realistic, but with some dry humor and occasional glimpses of happiness thrown in.
Why I picked It up: After I loved The Knockout Queen, I decided it was finally time to give The Girls From Corona Del Mar a try.
This is a hard book to summarize! Here goes: Mia and Lorrie Ann grow up together in Corona Del Mar and become best friends. To Mia, Lorrie Ann's life seems perfect – loving parents, a close family – while Mia's mother is an alcoholic and her father has abandoned the family. After high school, though, their fortunes reverse. Mia goes off to Yale, while Lorrie Ann gets pregnant, gets married and gives up her dreams of Berkeley. From there, their lives go off on very different trajectories. The women sort of orbit each other for the next decade, re-entering each other's lives every few years. Their relationship is always fraught, with Mia feeling guilty about the burdens Lorrie Ann bears and the path she was never able to follow. In their late twenties, Mia is living in Turkey with her boyfriend when Lorrie Ann shows up out of the blue. While in Turkey, the friends confront each other about choices they've each made and whether they've been honest with each other throughout their friendship.
The Girls From Corona Del Mar is a heartbreaking read about the complexities of friendship that do not always live up to expectations. Thorpe touches on a lot of topics – abortion, addiction, disability and the challenges of motherhood – in this deeply intelligent and incisive book. Like The Knockout Queen, a lot of bad stuff happens, and it's not a sunny read. But it's definitely a worthwhile one. I love, love Thorpe's writing and have added her to my must-read-author list. Her use of detail is so sharp that even now, days after I finished the The Girls From Corona Del Mar, I can conjure images from all throughout the book just from Thorpe's descriptions and observant prose.
I alternated reading and listening to The Girls From Corona Del Mar. It's narrated by Rebecca Lowman, who has performed several other books I've listened to. Her delivery was perfect – measured and a bit unemotional, like Mia herself (the narrator in the book). I recommend either version equally.
The Girls From Corona Del Mar was book #7 of 2021, and, because I found a receipt in it from Island Bookstore from 2016, it satisfies the Book On My Shelf 2+ Years category of the 2021 EDIWTB Reading Challenge.