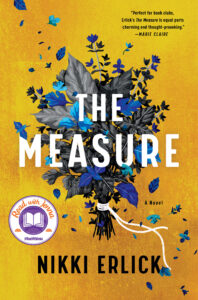 Vacation read #4 was The Measure by Nikki Erlick, one of the hot books of summer and recent Read With Jenna pick. I'd heard many great things about this book and the premise intrigued me. One day, small wooden boxes appear on everyone's doorstep in the entire world. The boxes each contain a piece of string, the length of which signifies the length of the recipient's life. There is no explanation for where the boxes came from, but they continue to show up on everyone's 22nd birthday. The Measure explores how the world reacts to the boxes and tracks a group of people in New York as they grapple with the implications of knowing their life expectancy.
Why I picked it up: The premise and the reviews.
The Measure started out very strong. I thought Erlick did a great job with the early days of the boxes' arrival, including the worldwide pandemonium that ensued and the eventual confirmation that the strings did in fact portend what people suspected. I dogeared a number of pages that raised interesting implications: were "short stringers" receiving subpar medical care because of their strings, or did the string simply reflect the care a patient received? How would the strings affect newly engaged couples, if one's was much longer than the other's? Should short stringers be allowed to hold office, attend medical school, join the army? The implications are endless. I liked this aspect of The Measure – it made me think and ponder.
As the book wore on, however, I liked it less and less. Erlick chose a pretty narrow subset of people to follow – a NYC support group for short-stringers – and while her topic was a weighty one, the characters ultimately developed into cliches and the plot became sappy. This could have been such an interesting book, but by the end I was almost skimming it. Erlick hits her readers over the head with a "prejudice is bad; accept everyone" message that turned The Measure into an allegory for… racism? Covid? I am not sure, but I felt like she took a look at current headlines and just conformed them to fit her plot. Meanwhile, the strings eclipsed all of the other bad things going on in the world, which made it less dystopian and more of a fable.
In the end: very interesting premise, sugary execution. I think The Measure would make a good book club discussion, in part because it prompts the question, "Would you look inside the box?" and in part because the book has received a wide range of reviews. There would be a lot to discuss.
The Measure was the 41st book of 2022.