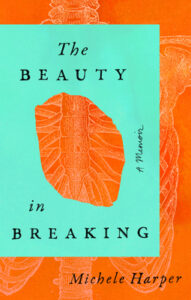 The Beauty In Breaking is a memoir by Michele Harper about her life as a Black female emergency medicine doctor. She grew up with an abusive father in Washington, DC, managed to overcome the chaos and stress of her upbringing, and went to Harvard and then on to medical school. Her short marriage ended in divorce just as she began her career as an ER doctor in central Philadelphia. The Beauty In Breaking mostly covers the start of her career, looking at individual patients who taught Harper about what it means to help and heal patients while facing the prejudice and racism often aimed at Black doctors, and women in particular.
Why I picked it up: I've had The Beauty In Breaking on my shelf for a long time, and was in the mood for some serious non-fiction after a spate of fiction reads.
The Beauty In Breaking was a mixed bag.
The good: I enjoyed Harper's stories about the ER, how it operates, what it's like being on the overnight shift and how patients are treated. Some of the chapters stand out: a toddler who came in with kidney issues but turned out to have been badly abused by her father; the addict who refused treatment because of paranoia; the man whose cancer had recurred after 20 years of healthy living who also refused treatment but for a very different reason; the female veteran who had been sexually assaulted twice in the military. Harper related how she teased out these patients' stories and how each of them in his or her own way helped her grow as a doctor. Harper faced a lot of challenges – being passed over for promotions, understaffed ERs, racism in the workplace, the inefficiencies of healthcare, administrators who were uninterested in more holistic ways of treating patients – and her ongoing frustration was quite understandable.
The not as good: The book is really more of a collection of vignettes than a memoir, and her need to derive a lesson from each vignette often felt forced. I've read reviews that complain that Harper always paints herself as the best doctor/smartest person in the room, which is true, but that didn't bother me that much. I just wanted more cohesion and more detail to fill in the missing years, subplots and transitions. In the end, the book didn't leave that big of an impression on me.
So while I learned a fair amount from The Beauty In Breaking, it was just OK for me.
The Beauty In Breaking was the 29th book of 2021.