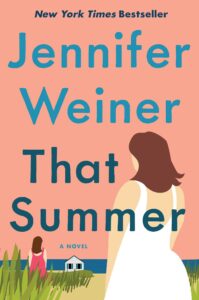 Jennifer Weiner must want to be known as a queen of the summer novel, given that the last two books she wrote – Big Summer and That Summer – were released in May 2020 and May 2021 , respectively, and take place on Cape Cod during the summer. But unlike Big Summer, a propulsive but inconsistent friendship novel that took an unfortunate path into mystery territory, Last Summer is deeper and has a lot more to say than its predecessor. It takes on motherhood, #MeToo, female identity and toxic masculinity, a timely mix to be sure. And, because it's a Jennifer Weiner novel, it is well-constructed and told in a way that keeps the pages turning.
Why I picked it up: I didn't love Big Summer (review here), but I was intrigued enough by the premise of Last Summer to pick it up. I got it via a swap.
Daisy Shoemaker is a stay at home mom in suburban Philadelphia, married to an older, wealthy lawyer. She has been receiving misaddressed emails intended for a woman named Diana, and after a few rounds of forwards and explanations, the two women connect and establish a connection. They meet in person, with Diana providing Daisy her first real adult friend since another close mom friend passed away. But the Diana-Daisy connection turns out not to have been a random one, and how it came about is teased out through a series of flashbacks into their lives. That Summer explores Daisy and Diana's choices, disappointment and, notably, their fury at how actions and decisions by men had shaped their lives.
That Summer is not a light, summer read – it's an angry book with an agenda (which was fine with me!). Weiner borrows heavily from the Cavanaugh story and explores how sexual assault changes lives, dramatically, forever. The repercussions are enormous. Through Daisy and Diana, Weiner also addresses the challenges of being a woman defined by her roles and the importance of strong female friendships. And whether closure, and forgiveness, are ever truly possible. Men do not come off very well in That Summer.
That Summer isn't a terribly quick read, either. It took me a while to get through it. It could have used some paring down, especially the chapters about Daisy, which got repetitive. Also, I read an ARC and there were inconsistencies and some sloppiness on details which might have been corrected by the final edition , though judging by the Goodreads reviews, maybe not. But I still liked it a lot and found it thought-provoking and compelling.
Overall I am glad I picked That Summer up – it's my favorite Jennifer Weiner novel so far.
That Summer was the 33rd book of 2021.