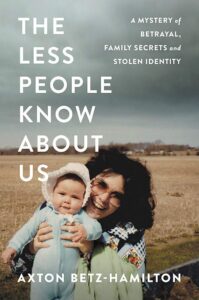 The Less People Know About Us: A Mystery Of Betrayal, Family Secrets and Stolen Identity by Axton Betz-Hamilton is exactly that: a memoir about how identity theft destroyed the foundation of a family in small-town Indiana, with far-reaching implications for all aspects of the author's life. It's not a light or fun read, for sure, but I found it engrossing and disturbing.
Why I picked it up: I have no idea where I learned about this book, but it intrigued me and I immediately got on the library hold list for it. It was my most recent blow-dry book.
Betz-Hamilton grew up in a small town in Indiana, the only child of two parents with Indiana roots who wanted to move out of their small town but were kept there due her sick grandparents. By the time Betz-Hamilton was born, their lives were pretty entrenched, with her mother working in various financial jobs in the town and her father keeping a farm on their property. When she was in middle school, strange things started happening – mail was stolen, utilities were cut off, money disappeared. Once her mother determined that they were victims of identity theft, Betz-Hamilton's world got very small. With drapes drawn and phone service cut off, she became isolated from her peers and forced to live a lonely, solitary life, often serving as the glue between her two complicated parents.
The Less People Know About Us is a chronicle of a childhood and young adulthood overshadowed by paranoia and anxiety. She was continually forced to clean up messes created by other people, which left her both lonely and extremely independent. Unsurprisingly, she ended up devoting her life to the issue of identity theft, studying it in college and earning two graduate degrees on the topic. The mystery at the core of the book – who was doing this to them? – kept me guessing and interested, and I felt a great deal of empathy for Betz-Hamilton as I read. The Less People Know About Us can be a stressful read, and it's not a happy one, but it's certainly a well-written and interesting memoir. (I am intentionally being a little vague here because I don't want to spoil the book.)
The Less People Know About Us was the 34th book of 2021.