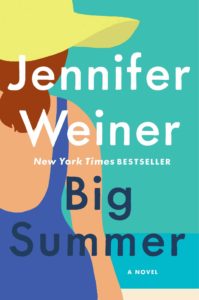 You know that feeling when you think a book is going to be a certain way, and then you start it, and it turns out to be something different? You keep expecting – and maybe wanting – the book to conform to the genre you set out to read, and it doesn't, and you sort of end up… blaming the book, however unfair that is? That's what happened to me with Big Summer by Jennifer Weiner. It started out as I expected – kind of light fiction about a woman coming to grips with a friend who treated her terribly in high school but years later comes back into her life, asking her to be a bridesmaid in her wedding. About a third of the way in, Big Summer turns into a mystery/thriller – an entirely different type of book – and I'm not sure I ever fully recovered.
Why I picked it up: I haven't read Jennifer Weiner in a very long time. I swapped for Big Summer a few months ago, and when I found it on audio on Scribd, I decided to go for it. It seemed like a good, light pandemic read.
Big Summer's protagonist is Daphne Berg, a plus-sized Instagram influencer. Daphne achieved notoriety when she was filmed telling off her high school friend Drue Cavanaugh, a rich, beautiful mean girl who humiliated her at a bar during college. Daphne finally told Drue off after years of being her poorer, heavy sidekick and enduring all of the pain and thoughtlessness inflicted by Drue. Years later, Drue tries to get back into Daphne's life, apologizing for her behavior in high school and convincing her to be in Drue's upcoming wedding extravaganza.
There's a lot in that first third – Daphne's self-esteem, her relationships with her family and roommate, how she recovered from the terrible high school years and why she stuck with Drue as long as she did. There's also social media culture and body positivity and comeuppance. I liked that third quite a bit – it had some heft and poignancy and was an engrossing read.
Then something dramatic and unexpected happens, and Big Summer turns into a thriller and Daphne into a detective. What felt realistic and grounded in detail suddenly sped up and became faster-paced, less realistic and… an entirely different book. It was still engrossing and I still took the audio into the shower, but it was a lot less filling. And I have to admit that I felt a little resentful. So just know what you're getting into if you decide to pick up Big Summer.
I listened to Big Summer on audio. It's narrated by actress Danielle Macdonald, who I didn't realize until right now is someone I've seen before in movies. (I guess that's why she looks a lot like what I thought Daphne looks like!) She did a pretty good job. There are some weird pronunciations in the audio, which now makes sense because Macdonald is Australian. This is also her first audiobook. Here's a Facebook Live recording of Weiner and Macdonald in conversation about the writing and recording process.
Big Summer was the 47th book of 2020.