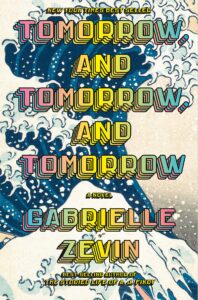 Gabrielle Zevin's juggernaut novel Tomorrow, and Tomorrow, and Tomorrow – probably the most acclaimed book I've read this year – is about the relationship between two video game designers named Sam and Sadie. Friends since childhood and bonded by their mutual love of video games, they meet up again in college, where they form a partnership that leads to a series of successful – and some unsuccessful – games. Along the way, their friendship is tested by various stressors, some of which threaten to end it altogether, as the two age and experience the challenges of life. This 400 page book has many flashes of brilliance and is often extremely poignant, but it also left me cold at times. So while I liked it a lot, I didn't love it.
Why I picked it up: Tomorrow, and Tomorrow, and Tomorrow has been on a tear this year! It's also my IRL and podcast book club book this month.
There is so much going on in this book. There's Sam and Sadie's relationship, which starts out on complicated footing when she befriends him in an LA hospital where he is recovering from a car accident and she is accompanying her cancer-ridden sister. Sam learns after the fact that Sadie has submitted the hours she spent with him for her bat mitzvah community service requirement, and mistakenly thinks that she did it all out of obligation. This kills their friendship for many years, until they meet up in a T station in Boston where they are both attending college, he at Harvard and she at MIT. They reconcile and ultimately form a company together to build video games. Sam's roommate Marx becomes their third partner, forming a tightly bonded trio that continues for many years. Tomorrow, and Tomorrow, and Tomorrow reminded me of Meg Wolitzer's The Interestings, which also follows a group of creative, ambitious teenagers through life's ups and downs as they go in and out of each other's orbits. I loved that book, and I liked this too, but not as much.
Zevin is incredibly creative, and she's an eloquent writer. I found Tomorrow deeper and more original than her The Storied Life of A.J. Fikry, which I finished earlier this month. She covers a lot of ground here, and it's just an incredibly unique premise for a book. She came up with all of these games – that alone is pretty amazing! My issue with Tomorrow had to do with the two main characters, and Sadie in particular. I just didn't get her. She was so detached and unemotional. Her aloofness may have stemmed from some unaddressed traumas early in her life, but regardless, I found it hard to invest in her as a character. Sam was a little more connected, but even he tended to float through life without building many emotional ties, perhaps again due to losing his mother at an early age. When the core relationship in a book is between two relatively cold people, it cannot help but chill the reader as well. Interestingly, Sam and Sadie connect best when they do it virtually, through the anonymous comfort of a video game.
This will be an unpopular opinion: I admired Tomorrow more than I actually enjoyed it. I am glad I read it, but it wasn't the five-star read for me that it was for so many others.
Tomorrow, and Tomorrow, and Tomorrow was the 55th book of 2022.