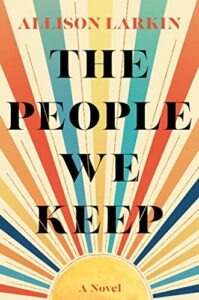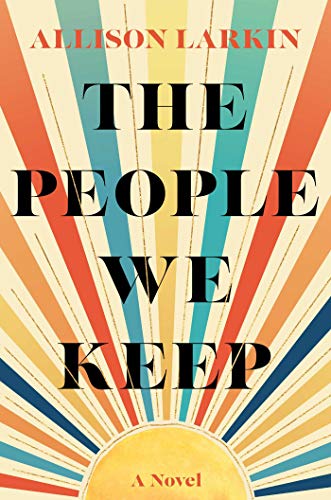 Ok, another unpopular opinion to follow…
The People We Keep by Allison Larkin is about a teenager named April who lives in upstate New York in an old motor home. Her mom abandoned her and her father, who lives nearby with a new woman and her young son, comes by the motor home every now and again but has basically left April on her own. A singer/guitarist, April is not interested in school and has outgrown her high school boyfriend, who is planning their future together. After a particularly heated fight with her father, April steals his car and takes off. The People We Keep is a chronicle of where April goes and who she meets once she leaves her small hometown, and how she survives and builds a community for herself.
Why I picked it up: I had seen this book everywhere – it was a July BOTM pick – and read a lot of very positive reviews.
I had a lot of issues with The People We Keep. First, April was 16 when the book opened. She was sleeping with her high school boyfriend, and then after she left town, she quickly started sleeping with a 27 year-old with whom she developed a pretty substantive relationship. This pattern continued over the next few years – she'd come to town, cross paths with a (usually older) man who found her attractive, get emotionally involved, and then move on. When she was 16, I was really uncomfortable with her relationship. When she was 19, I was slightly less uncomfortable, but I still found her purported maturity in the book to quickly outpace her age. It just seemed unrealistic to expect a teenager to have the wherewithal to have these relationships.
The People We Keep also had a strong YA feel to it – the way April talked, the way she thought. I didn't think the book was billed as YA but it's how it read. I don't have anything against YA, but the main character does not have to be so self-absorbed and clueless about other people's feelings.
By the time I was 2/3 done with the book, I was kind of hate-reading it. Yes, I wanted to know what happened to April, but I was so frustrated with the book and the storytelling that I was fueled on by irritation rather than genuine interest. There are some sweet relationships that develop, but most of them were completely reliant on circumstance (who walks into the bar she's playing in, for example) that after a while it just seemed silly. And who would let a 16 year-old just disappear into the night like that?
Sorry, this book just didn't work for me. I am definitely in the minority – this was just nominated for BOTM BOTY – so read some other reviews before you decide whether to pick it up.
I listened to The People We Keep on audio, narrated by Julia Whelan. I usually like her narration, but her performances usually have an urgent, almost angry tone to them that seemed to only magnify the issues I had with April, who was too often completely inconsiderate of others and irrationally guarded. Yes, she'd been harmed and discarded by her parents, but she had plenty of opportunities to settle down with people who genuinely loved her, which she always rejected.
The People We Keep was the 47th book of 2021.