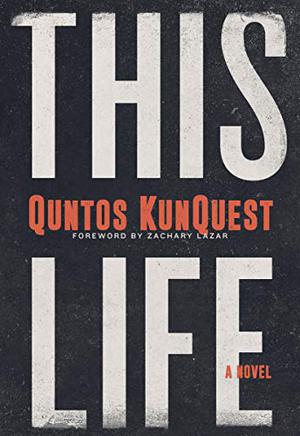 Amidst the hubbub this week around big new September releases, I finished a book that's unlikely to attract nearly as much attention, but should. It's called This Life by Quntos KunQuest, and it's a debut novel from an author who is currently incarcerated at Angola Penitentiary in Louisiana. This Life follows a newly imprisoned man named Lil' Chris as he ages through the system. KunQuest, a poet and a rapper himself, intersperses verse throughout the book, providing a creative outlet for Lil' Chris and a poignant vehicle for his fear and frustration as well as his growth as a man.
Why I picked it up: I am always interested in books about prison, so I took the chance to read and review This Life when it was offered to me.
This Life revolves around two men serving life sentences: Lil' Chris and Rise. Lil' Chris is new to prison when the book opens, filled with nervous energy and fury. Early on, he catches the eye of Rise, an older man who has been in prison for a long time. Rise identifies inmates whom he believes have the potential to learn, to grow – and maybe to engineer their own release. Rise teaches other people at Angola, sharing literature and instructing them on how to use the law library to research and prepare their appeals. Through these two men, KunQuest takes his readers into the complex world of Angola, which houses over 6,000 prisoners and almost 2,000 staff. We learn about the routines, the jobs, the security, the conflicts and the punishments that occur every day at this massive ecosystem.
Rise and Lil' Chris find common ground in rapping, and the book is full of verses that they have created and shared with their fellow inmates. Rapping helps these men process and find deeper meaning in what they are experiencing.
After reading This Life (and most prison literature), I was left feeling hopeless about the prison system and how it traps its inmates into further cycles of violence and desperation rather than focusing on education and rehabilitation. This Life is even more poignant because its author, imprisoned since 1996, has so clearly poured his own artistic energy and vision into these two characters. But it's an important, and rarely heard, perspective that deserves to be shared and understood.
This Life was the 44th book of 2021.