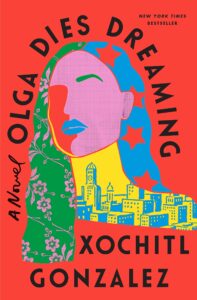 Olga Dies Dreaming by Xochitl Gonzalez is an exuberant, sweeping novel about Olga Acevedo, a wedding planner living in New York who must reconcile her life and livelihood with the legacy of racism and neglect of Puerto Rico over the last decade. Her mother, a radical activist who left Olga when she was a teenager to move back to Puerto Rico and fight for independence, left Olga feeling abandoned and a disappointment. Her brother, Prieto, a U.S. Congressman, bears similar scars from their mother's absence, but channels his feelings of inadequacy into serving his constituents. In Olga Lies Dreaming, the siblings reexamine their priorities – and their lives – while coming to terms with the weight of their mother's expectations.
Why I picked it up: This was my BOTM pick a month or two ago, and I read some good reviews that bumped it up the list.
So, this book was a mixed bag for me. i had high hopes after the first few chapters. I liked Olga as a protagonist – funny, confident, fresh and imperfect. I found the wedding planning hijinks entertaining and I liked hearing about her Brooklyn roots and extended family. I liked that Olga Dies Dreaming is an #ownvoices novel from a voice that I don't read that often. Prieto, too, was an interesting character with some unexpected dimensions. I enjoyed Gonzalez's descriptions of old Brooklyn in contrast with the shiny developments in other parts of the borough, a tension that mirrors Olga's own internal struggle with her achievements and business success vs. the pull of her parents' egalitarian values.
In the end, though, Gonzalez tried to do too much in the book. She takes on a lot of issues – Puerto Rican independence, capitalism, parent-child dynamics, AIDS, sexual assault – which forced the novel into few different genres: romantic comedy, family drama, political thriller. I think if Gonzalez had pared it down a little, I would have enjoyed it more. Sometimes I just wasn't sure what exactly I was reading. I learned a fair amount from the book, and given its length and the amount of detail, it will stick with me. I just felt some reader whiplash as she moved between topics and moods.
I listened to Olga Dies Dreaming on audio, which I think really enhanced the book for me. The main narrator – Ines del Castillo – was a perfect Olga, shifting effortlessly between Spanish and English and bringing Olga's internal struggles to life. She was a perfect choice for this novel. The book was longer than necessary, and the audio is over 11+ hours – but I'd recommend it if you want to give the book a try.
Olga Dies Dreaming was the 8th book of 2022 and satisfies the debut novel category of the 2022 EDIWTB Reading Challenge.