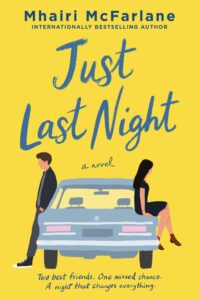 Just Last Night by Mhairi McFarlane sits at the intersection of rom com and meatier fiction – a place occupied by authors like JoJo Moyes – and is engrossing and sad enough to keep you reading, with the promise of a happy ending. Just Last Night is the story of four college friends – Eve, Susie, Ed and Justin – whose close friendship has survived into their mid-30s, despite many life changes and some buried secrets among the group. When tragedy strikes the four late one night, they are forced to grieve together and confront some truths that come out unexpectedly, rattling the foundation upon which the four have depended for decades.
Why I picked it up: I read about Just Last Night somewhere (where?) and grabbed it from the library. I suggested it for my book club, and they bit. We are reading this one and These Precious Days for our next meeting.
It's hard to talk about Just Last Night in detail without giving away spoilers. I can say that this is what I liked about it: strong, relatable, funny heroine; realistic depiction of death and grief; realistic depiction of adult friendships and relationships; snappy dialogue; romantic but unpredictable love story. It took me a little while to get into Just Last Night – damn that British slang – but once I was locked in, I had a hard time putting it down. I haven't read anything by Mhairi McFarlane before but she seems to be pretty popular.
This is a short review, not because I didn't like the book, but because I don't want to give away anything else. If what I've described sounds appealing, give it a try.
Just Last Night was the 17th book of 2022.