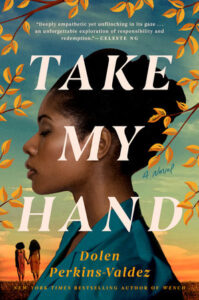 Take My Hand by Dolen Perkins-Valdez is historical fiction set in the 1970s Alabama (a 70s setting is historical fiction? ugh) about Civil Townsend, a young Black nurse assigned to provide family planning and gynecologic care two young Black girls living in poverty. Civil is dismayed to learn that she is injecting the girls with untested birth control when they are not even sexually active yet, and she takes a personal interest in their family, arranging for them to move into public housing and attend school. When Civil finds out that her clinic has intervened irrevocably in the girls' health, she fights back on their behalf, seeking justice for poor Black girls and women who are often voiceless and defenseless against racist public policies.
Why I picked it up: I read and enjoyed Perkins-Valdez's book Wench, and jumped at the chance to read and review Take My Hand.
Take My Hand is a heartbreaking story about gross injustices imposed by the federal government only 50 years ago. Perkins-Valdez did painstaking research into cases similar to the fictional one she created in Take My Hand, and it shows. Although this is a novel, the story has power and resonance far beyond its pages. Perkins-Valdez places what happened to the girls in political, racial and social contexts that are sadly still relevant today too. The dual-timeline narration also depicts the impact that the two young girls – India and Erica – had on Civil's life, and how her involvement in their case had ramifications that affected her own career and personal life years after she lost touch with the girls.
I am definitely glad I read Take My Hand, even if it isn't the escapist reading I've been drawn to the last few months. There were times when it felt like I was reading a history lesson with a personal narrative on the side, rather than the reverse. I also could have used less courtroom dialogue and more of present-day Civil, but as a former lawyer, I am never a fan of courtroom scenes. So that's just me.
I listened to Take My Hand on audio. The narrator, Lauren Daggett, was fantastic: somber when she needed to be, indignant when the book called for it, and expert at distinguishing many characters, male and female. I switched to the audio from the print about 40 pages in and it was a great choice.
Take My Hand was the 18th book of 2022.