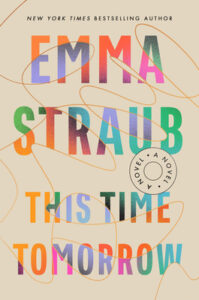 I have been hit or miss with Emma Straub over the last several years. I liked The Vacationers a lot, mostly liked Modern Lovers, and was disappointed in All Adults Here. But when I learned that Straub's latest novel, This Time Tomorrow, involved time travel and relationships with parents, I knew I wanted to read it. I am happy to report that This Time Tomorrow definitely falls into the "liked it a lot" camp.
Why I picked it up: I can't resist a good time travel novel. (For more about my love of time travel books, check out this episode of the Readerly Report podcast, in which Nicole and I talk about other books we've loved in this genre.)
Alice Stern is about to turn 40. She lives in Brooklyn, is in a relationship with a guy she doesn't really love, and works in admissions at the same NYC private school that she attended. Her beloved father Leonard, the author of a novel about time travel. has been in failing health for a while, and is now in the hospital and not frequently awake. The night before her birthday, she goes out to dinner with her childhood best friend, takes a detour to her favorite dive bar, and winds up drunk back at her father's house. She falls asleep… and wakes up on her 16th birthday. Over the course of This Time Tomorrow, Alice realizes that she can return to that day, again and again, so she does, hoping to fix the things that are wrong with her current 40 year-old life, as well as her father's.
I don't want to give away more of the plot of This Time Tomorrow, which takes some unexpected and and poignant turns. It is a sweet and touching book about the fleeting nature of life and the impossibility of spending enough time with the people you love. Unlike so many parent-child dynamics in contemporary literature, Alice and Leonard's relationship is strong and uncomplicated. There is deep love and affection between them, and though there are questions between them that have remained unanswered for decades, there is no animosity or resentment. I also enjoyed Alice's relationship with her best friend, who remains a constant from her teens to her 40s and who provides Alice with a confidante at both stages of life. Straub does a nice job contrasting youth and middle age, exploring the shifts in worldview and priorities that takes place over those decades.
This Time Tomorrow is a compelling, moving book that made me wistful and grateful for my parents' health, however fragile. I especially recommend it to people who like time travel books, though I think that if you don't especially enjoy them, you'll still like this one.
I listened to This Time Tomorrow on audio. It's narrated by Marin Ireland, who did a nice job, as always. I've listened to a lot of her audiobooks, which can actually be a little jarring . Sometimes I find myself unconsciously expecting one book – the last one of hers I listened to – but getting a different one altogether. I guess good narrators are in high demand!
This Time Tomorrow was the 26th book of 2022.