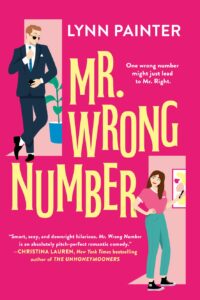 I am hard core mood reader, and sometimes, I am in the mood for a romance. I know exactly what I'm going to get, and that's fine, because it's just what I want at that time. That's how I ended up reading Mr. Wrong Number by Lynn Painter, a book I had put on library hold a while back after reading about it. Mr. Wrong Number is about Olivia, a woman with serial bad luck who ends up moving home to Omaha from Chicago and into her brother's guest room. Her brother's roommate, a handsome but aloof and condescending guy named Colin, owns the apartment and agrees to take Liv in for a month. A few days later, Liv gets a suggestive, misdirected text on her phone and strikes up a correspondence with the anonymous man, whom she names Mr. Wrong Number. Well, guess what… Colin and Mr. Wrong Number are one and the same, which neither of them realizes right away.
Why I picked it up: I was in the mood to read a romance and it sounded cute. And it was!
Mr. Wrong Number doesn't stray from the typical romance pattern:  take two mismatched people, keep them apart as long as possible while building up tension between them, let them hook up, throw a wrench into their romance, and then give them a happy ending. Colin is swoonworthy (my favorite was when he brags to Liv that he is very good at giving thoughtful presents!) and I could see why she fell for him. Liv is sort of annoying – she makes a lot of really bad decisions, knowing that they are bad decisions – and she seems to vacillate between confidence and insecurity even within the same paragraph. But Painter needed Colin's opposite to set up the unlikely pair element, so Liv makes sense. It was fun watching the IRL relationship play out in tandem with the Wrong Number texts, though I would have liked to have seen the texting go on a little more and get a little deeper (or racier!), since that's how so many relationships start and develop these days.
I am giving Mr. Wrong Number four stars not because it's weighty or literary or deep, or even that memorable, but because it met my expectations for a romance and it was a fun, quick read.
Mr. Wrong Number was the 25th book of 2022.