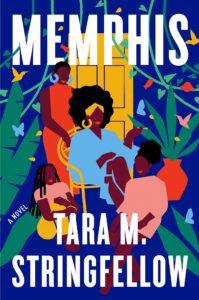 Memphis by Tara Stringfellow is the story of trauma and resilience threaded through three generations of Black women in Memphis. Hazel, her daughters Auggie and Miriam, and Miriam's daughters Joan and Mya, all live in the family house in Memphis over the course of decades, under different circumstances. Hazel lives in the house built by her husband for only a few years before he is killed by racist lynchers. Auggie moves in with her mother when she finds herself pregnant by a violent man, while Miriam moves back home and in with her sister after escaping an abusive marriage. The house serves as the central setting in which these women deal with pain, sadness, and ultimately, hope.
Why I picked it up: Rave reviews from sources I trust.
I feel like I should have loved Memphis, but I thought it was just OK. The writing is lush and lyrical, full of evocative imagery and beautiful scene-setting. The characters are well-developed and easy to distinguish from each other. But in the end, I just didn't love this book. I appreciated the braiding together of multiple narratives and the shifting of time periods from chapter to chapter, but I also found the jumping around to be confusing . The male characters were one-dimensional – either heroes or villains – and when Stringfellow had the chance to give them more depth or nuance, she shied away. I don't know why this book didn't grab me, but I found it a bit of a chore to get through. I'm definitely in the minority, though – most readers loved it and gave it high ratings. So don't take my word for it!
One possibility: I listened to Memphis on audio, which could have contributed to my confusion with the shifting timelines. Despite the aural cue at the beginning of each chapter, it sometimes took me a while to orient myself as to whose story I was listening to and when it took place. The narrators, Karen Murray and Adenrele Ojo, were very good and I have no problems with their performances. I just think that Memphis might have been a better reading experience in print than on audio.
Memphis was the 24th book of 2022 and satisfies the debut novel category of the 2022 EDIWTB Reading Challenge.