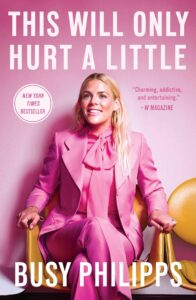 I love a good celebrity memoir, especially when I have just finished a book and am not sure what to read next. I recently learned about Busy Philipps' 2018 memoir, This Will Only Hurt A Little, and the timing was right to slot it in after my last audiobook. I finished it quickly – in less than a week – and found it pretty interesting. Busy Philipps is an actress whom I know best from Dawson's Creek in the early 2000s, but she's been in a lot of other things, including currently in Girls5eva. This Will Only Hurt A Little is mostly about her experience as an actress from her high school days through her 30s, trying to get work, meeting her husband and having kids.
Why I picked it up: Can't resist a good celebrity memoir.
Here's the good about This Will Only Hurt A Little. I am pretty sure that the Philipps we hear from in this book is exactly who she is in real life. She doesn't hold back on anything. She's honest about al the times she didn't get cast, about being told she needs to lose weight, about the times she cheated on boyfriends, about her insecurities, about the times she was mistreated by men. She dishes the dirt on plenty of celebrities. She doesn't sugarcoat the challenges of marriage or motherhood. She doesn't glamorize Hollywood or TV or fame, and yet she is honest about how much she craves affirmation and knows that she could never have any other career. It's fun to listen along as she retells her stories, crazy as some of them are. She's also passionate about abortion rights and loathes Trump, so there's that.
What's not as good: Philips can come across as sort of vapid and shallow (even though she has written screenplays, directed and acted as a surrogate for Hillary). She isn't always conscious of other people's feelings and she's pretty self-absorbed. She can also be a little unhinged.
If you can get past that, this is an interesting and often entertaining memoir.
I listened to This Will Only Hurt A Little on audio. It's narrated by Philipps, so you get an even better sense of what she's like from the audiobook. She is super dramatic and loud, but also fun to listen to for 8 hours.
This Will Only Hurt A Little was the 37th book of 2022 and satisfies the Memoir category of the 2022 EDIWTB Reading Challenge.