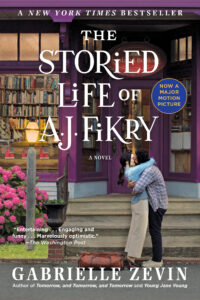 I never do this, but I am reading two books back-to-back by the same author. My IRL and podcast book club book for November is 2022's acclaimed Tomorrow, and Tomorrow, and Tomorrow by Gabrielle Zevin, and coincidentally I was invited to join a blog tour for Zevin's 2014 novel The Storied Life of A.J. Fikry, which was recently adapted into a movie. Algonquin is currently marketing the new version of the novel as a tie-in with the movie. I had never read it, so I decided to participate. (I haven't watched the movie yet, but I hope to soon.)
Why I picked it up: I haven't read Zevin before, but Tomorrow was so well-received this year that I decided to give her a try.
A.J. Fikry is a curmudgeonly bookstore owner on a Massachusetts island living an antisocial, reclusive life since the death of his wife in a car accident. He is rude, closed-off and depressed, until one day when an abandoned, precocious two year-old girl appears in his store. Maya's presence starts to thaw Fikry, opening him to new people and connections and bringing him back to life. This sounds pretty cliched and schmaltzy, right? Well, it is cliched and schmaltzy. I hate when babies appear out of nowhere and people who weren't already parents absorb the baby into their life with little disruption to either party. So unrealistic! And we've all read this story before, right?
But as The Storied Life of A.J. Fikry progressed, it became less cliched and schmaltzy. The characters have depth to them that I didn't expect, and their happiness is usually bittersweet or fleeting, darkening what could have been a saccharine sheen over the story. There is also a LOT of book-related talk in here: stories, bookstores, authors, publicists, bloggers, book clubs, on and on. If you love books and are interested in the publishing industry, you will likely enjoy these references.
The Storied Life of A. J. Fikry isn't terribly realistic – it felt more like a fable to me – but I found myself surprisingly invested in it. Zevin's style is fresh and original without being "quirky" (the kiss of death for me) and I appreciate her sense of humor. I am 100p into Tomorrow, and Tomorrow, and Tomorrow and am definitely turning into a Zevin fan. And now I'll try to make time to watch the movie adaptation of this one! (It's on Prime video).
I listened to The Storied Life of A.J. Fikry on audio. Narration by Scott Brick was excellent.
The Storied Life of A.J. Fikry was the 52nd book of 2022.