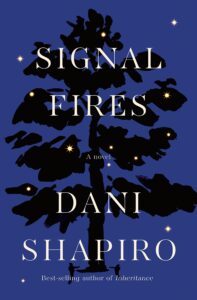 I am a longtime fan of Dani Shapiro. She is perhaps best known for her memoirs, including the recent Inheritance (which I loved), but she has also written novels, most of which are about families in crisis – my favorite kind of book. Shapiro has a brand new novel out called Signal Fires about two families living on the same street in a town in Westchester, NY, and how their trajectories intersect. I greatly anticipated this novel, and I think it will be my favorite book of the year.
Why I picked it up: It's a Dani Shapiro novel.
The history of the Wilf family – Ben, Mimi, Sarah and Theo – is cleaved by a car accident that happened when the kids were in high school. Theo, age 15, was driving because Sarah had been drinking, and a friend of Sarah's in the passenger seat was killed. Signal Fires criss-crosses decades to tell the Wilfs' story, exploring how the accident affected both the children and their parents. Meanwhile, another family across the street, the Shenkmans, faces its own crises, including the father's inability to connect with his extremely gifted but seemingly inaccessible son. Signal Fires revisits these characters during many time periods between the 70s and the present, setting up connections between them that go beyond the coincidental to the metaphysical.
I absolutely loved Signal Fires. It's devastating in so many ways – loss, aging and estrangement loom large for these characters – but also so poignant and moving. I really felt for all of these characters. I love Shapiro's clear, detailed prose, her empathy and compassion for her families, and the seamless fluidity with which she traversed the decades. I would say that it was a perfect book, but there were times when she veered a little too far into the metaphysical for my taste. The rest of the book was so strong, though, that it compensated for those few times. (And they are actually sort of reassuring, if you can give in to them.)
This excellent book was made even better by Shapiro's narration of the audiobook. I would have loved Signal Fires in print, but hearing it read in Shapiro's voice made it even more powerful. (If you listened to Inheritance on audio, you know what I am talking about. ) The audio also forced me to absorb this short book more slowly, which was good.
Five stars.
Signal Fires was the 50th book of 2022.